ABC Considering 'Modern Family' Spinoff About Rob Riggle's Gil Thorpe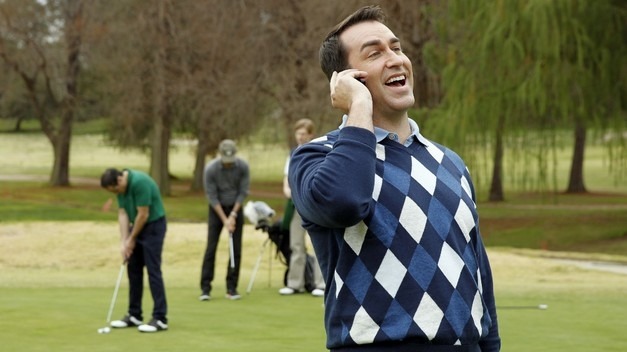 AMC's doing it, Showtime's doing it, and now ABC's doing it, too. The Alphabet is looking into a spinoff based on one of its biggest hits, the Emmy-winning Modern Family.
The possible series is still in the very early planning stages, and the network has not yet settled on a concept. However, one of the ideas being tossed around is a comedy centered on Rob Riggle's character Gil Thorpe. Between this and the Dumb and Dumber To news, the former fake new reporter is having a pretty great week. Hit the jump for all the details.
The news comes days after the show's fifth season premiere. Ratings for the episode were down 25% from last year, though the show still managed to beat its Wednesday night competition. Last weekend, the sitcom won its fourth straight Emmy for Outstanding Comedy series. It also took home the trophy for Outstanding Directing (for Gail Mancuso's episode "Arrested").
Riggle appeared in two episodes of the show last season as Thorpe, a successful real estate agent and Phil Dunphy's chief professional rival. He has a brash personality, in typical Rob Riggle fashion, as well as a habit of making puns of his own name (e.g., "Thorpedoed," "Gil Pickles). At one point last season, he hired Phil's wife Claire to work for him.
It feels like we've been hearing the word "spinoff" quite a lot recently, as AMC works on offshoots for Breaking Bad and The Walking Dead, The CW prepares to set up The Flash within the world of Arrow, and Showtime weighs its options for a Dexter follow-up. In addition, the 2013-2014 season includes the debuts of The Originals and Once Upon a Time in Wonderland, which grew out of The Vampire Diaries and Once Upon a Time, respectively.
That said, there's no guarantee that any or all of those shows will go on to be hits. For example, NBC attempted to build a series around The Office's Dwight Schrute before scrapping those plans; another previous attempt at a spinoff from that show eventually morphed into the unrelated Parks & Recreation.