Taylor Swift And Katie Holmes Join Jeff Bridges In 'The Giver'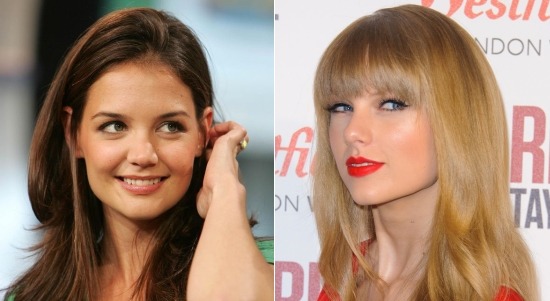 After contributing music to one dystopian YA adaptation, Taylor Swift is getting ready to star in another. The country-pop songstress has just climbed aboard Phillip Noyce's The Giver, along with Katie Holmes.
The pair join a starry cast that also includes Jeff Bridges, Meryl Streep, and Alexander Skarsgard in the grown-up roles, along with Cameron Monaghan (Shameless, the U.S. version) and Odeya Rush (The Odd Life of Timothy Green). Brenton Thwaites leads as young hero Jonas. Hit the jump to find out whom Swift and Holmes are playing.
He's guided into the new role by the previous Receiver, who'll be played by Bridges. Swift has signed on for the part of Rosemary, another of his former mentees. Holmes and Skarsgard will play Jonas's parents, while Monaghan and Rush will portray his friends. Streep rounds out the cast as the society's Chief Elder.
Although Swift is still best known for her music, she picks up some acting work from time to time. She voiced Audrey in last year's The Lorax, and had a small but crucial cameo in the Season 2 finale of New Girl. Holmes' last movie was the Adam Sandler clunker Jack and Jill, and she has a string of indies coming up including Days and Nights, Miss Meadows, and Responsible Adults.
Bridges has been developing The Giver for about a decade, having first optioned it as a starring vehicle for his father. Production will begin next month in Cape Town, South Africa, for release by The Weinstein Co. on August 15, 2014