'Boardwalk Empire' And 'Bob's Burgers' Will Be Back Next Year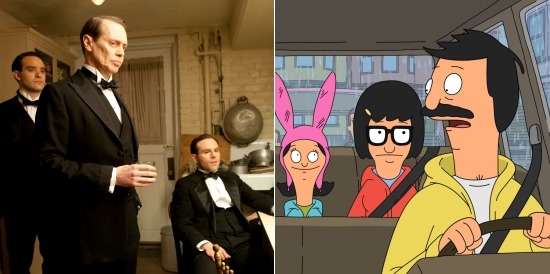 Bob's Burgers and Boardwalk Empire couldn't have less in common, really, but both happened to be the recipients of some good news today. Each show has just been renewed for a fifth season (by Fox and HBO, respectively), despite the fact that neither has completed its fourth season. Hit the jump for more details.
The news comes days after the Prohibition drama picked up five Emmys — including a Best Supporting Actor win for Bobby Cannavale, who beat out favorites Aaron Paul (Breaking Bad) and Mandy Patinkin (Homeland) in his category. The current fourth season kicked off September 8 and has averaged 7.5 million viewers across all platforms so far. The finale is scheduled to air November 10.
Meanwhile, Fox has ordered a 22-episode fifth season of Bob's Burgers days ahead of its Season 4 premiere on Sunday, September 29. The show also received some Emmy love last week in the form of a Best Animated Program nomination, though it lost out to South Park.
Over the first three seasons, the show has become a solid hit for Fox. It was one of the few broadcast series to gain viewers last season, and currently ranks among the top 10 comedies for men 18-49 and men 18-34. The series is popular with male teenagers as well.
"Bob's Burgers is one of those rare finds that just continues to outdo itself, creatively," Fox entertainment chairman Kevin Reilly wrote in the press release (via EW). "The show has become a key member of our Sunday Animation Domination family, and we're looking forward to attracting new fans with another season."