'American Horror Story: Coven' Intro Features Voodoo Dolls And Weird Stick Figures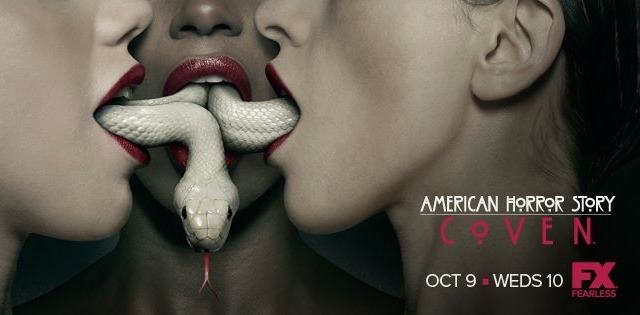 Dexter boasts a sky-high body count, Homeland features one terrorist plot after another, Game of Thrones showcases disembowelments and amputations galore, and Breaking Bad centers on a man who turns into more of a monster with every passing week. But as a source of good old-fashioned creepy-crawlies, none of those shows can beat FX's American Horror Story.
Just two weeks are left until the premiere of Season 3, titled American Horror Story: Coven. To whet fans' appetites for the uncanny, FX has just released the updated opening credits and two more opaque but unsettling teasers. Check 'em all out after the jump.
Yikes. Those 63 seconds do a better job of weirding me out than some full-length horror movies I've seen. But if you're in need of some extra scaring, FX has also revealed two brief teasers for the new season, titled "Laveau" and "Voodoo," respectively.
Per the credits, Coven's regulars are Sarah Paulson, Taissa Farmiga, Frances Conroy, Evan Peters, Lily Rabe, Emma Roberts, Denis O'Hare, Kathy Bates, and Jessica Lange. Curiously, Angela Bassett, Gabourey Sidibe, and Patti Lupone are not listed in the intro sequence, though their names appear on the poster.
American Horror Story: Coven kicks off October 9 on FX. Here's a synopsis of the upcoming season:
American Horror Story: Coven tells the secret history of witches and witchcraft in America. Over three hundred years have passed since the turbulent days of Salem and those who managed to escape are now facing extinction. Mysterious attacks have been escalating against their kind and young girls are being sent away to a special school in New Orleans to learn how to protect themselves. Wrapped up in the turmoil is new arrival, Zoe, who is harboring a terrifying secret of her own. Alarmed by the recent aggression, Fiona, the long-absent Supreme, sweeps back into town, determined to protect the Coven and hell-bent on decimating anyone who gets in her way.