'Marvel's Agents Of S.H.I.E.L.D.' Gets Record Ratings; New 'Thor 2' Footage In TV Spot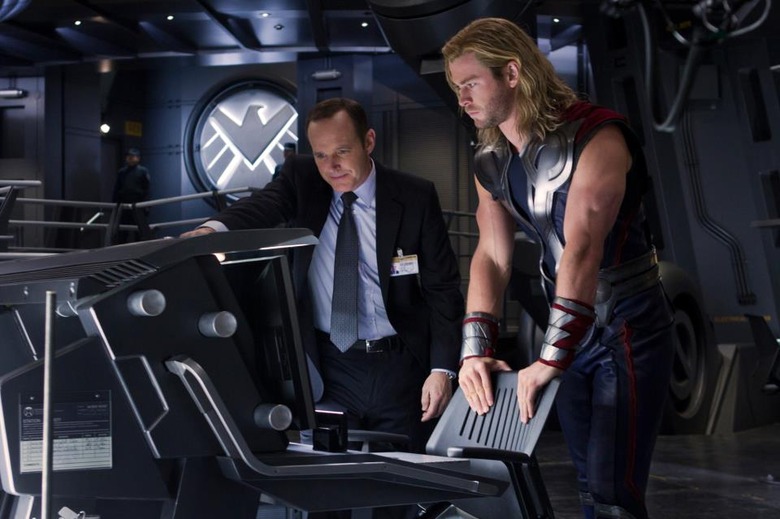 Tuesday was a pretty damn good day if you are a Marvel Cinematic Universe fan. First up, the Iron Man 3 Blu-ray hit shelves, including the One-Shot Agent Carter. Then Marvel's Agents of S.H.I.E.L.D. premiered on ABC. And if that wasn't enough, a new minute long TV spot for Thor: The Dark World debuted, featuring some exciting new footage.
Below, you can see that Thor: The Dark World commercial, read about how many people saw Marvel's Agents of S.H.I.E.L.D. and catch a preview for the rest of the season.
It seems we'll be seeing much more of Marvel's Agents of S.H.I.E.L.D.. The show debuted to 11.9 million viewers, which according to Superhero Hype is the best debut for a drama in four years. Head to those links for more specifics (age breakdowns, lead-ins, all the crazy TV talk) but the basic idea is, the show looks like it could be a hit, and now we see if people tune in a second week.
Here's a video of what's coming up on the show.
Finally, here's that Thor: The Dark World spot via SHH. Not all the footage is new, but stick through the end for some jaw-dropping coolness.
What did you think of Agents of S.H.I.E.L.D.? I thought the way it blended in the stories from The Avengers was really intriguing, but the characters felt very flat and there didn't seem to be any threat or tension. It's the first episode though, so I won't write it off yet, but I wasn't overly impressed. Moving forward, you certainly can see the potential to go either way.