Showtime Will Broadcast 'Inside Llewyn Davis' Concert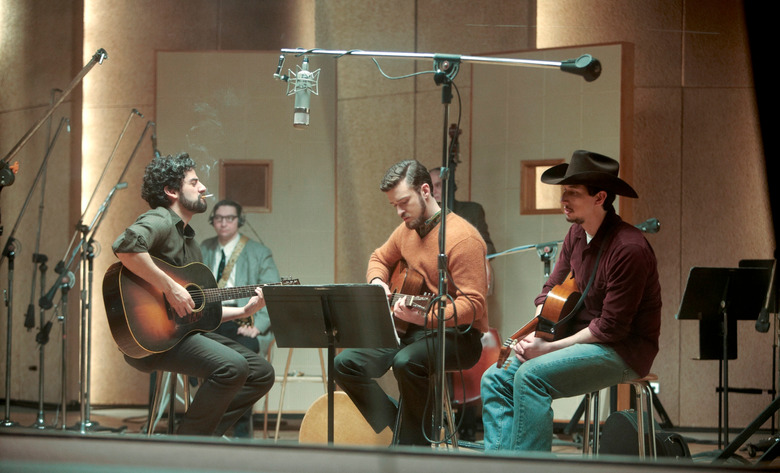 The new film from Joel and Ethan Coen is Inside Llewyn Davis, which stars Oscar Isaac as a singer/songwriter who finds his way through the folk music scene in Greenwich Village in the early '60s. As happened with the Coens' O Brother Where Art Thou?, which also featured a strong musical component, the music from the film is hitting a real-life stage. In this case, the Inside Llewyn Davis tunes will be brought to life in a benefit concert called Another Day, Another Time: Celebrating the Music of Inside Llewyn Davis.
The concert takes place this coming Sunday, and since most of you won't be able to attend (because you'll be home watching Breaking Bad, I expect) Showtime has done everyone a solid and made a deal to broadcast the show. There won't even be a conflict with the Breaking Bad finale. Since Inside Llewyn Davis doesn't open until December 6, Showtime will wait to broadcast the concert until December 13.
Get more info below.
Here's the press release:
Produced by the film's writer and directors Joel and Ethan Coen, the film's executive music producer T Bone Burnett and producer Scott Rudin, the star-studded concert reunites the trio behind O BROTHER, WHERE ART THOU? and the highly successful concert events launched in conjunction with that film. ANOTHER DAY, ANOTHER TIME: CELEBRATING THE MUSIC OF "INSIDE LLEWYN DAVIS" will feature live performances of the film's music, as well as songs from the early 1960s that inspired the film.  A portion of the proceeds from the concert will benefit the National Recording Preservation Foundation.  The concert will take place at The Town Hall in New York City on Sunday, September 29, 2013, and SHOWTIME will air it nationally on Friday, December 13th at 9 PM ET/PT.Artists performing at the concert include The Avett Brothers, Joan Baez, Rhiannon Giddens of Carolina Chocolate Drops, Lake Street Dive, Colin Meloy of The Decemberists, The Milk Carton Kids, Keb' Mo', Marcus Mumford, Bob Neuwirth, Conor Oberst, Punch Brothers, Dave Rawlings Machine, The Secret Sisters, Patti Smith, Gillian Welch, Willie Watson, and Jack White. Stars of the film will also perform at the event, including Oscar Isaac (who plays the title role in the film), Carey Mulligan, Adam Driver, Stark Sands and John Goodman.  In addition to extensive concert footage, the documentary will feature behind-the-scenes material from the feature film, including rehearsals, and interviews with the filmmakers and cast.INSIDE LLEWYN DAVIS follows a week in the life of a young folk singer as he navigates the Greenwich Village folk scene of 1961.  Llewyn Davis (Oscar Isaac) is at a crossroads.  Guitar in tow, huddled against the unforgiving New York winter, he is struggling to make it as a musician against seemingly insurmountable obstacles — some of them of his own making.  Living at the mercy of both friends and strangers, scaring up what work he can find, Llewyn's misadventures take him from the baskethouses of the Village to an empty Chicago club — on an odyssey to audition for a music mogul — and back again. [Deadline]