Peter Sarsgaard And Liev Schreiber Join Tobey Maguire In Bobby Fischer Drama 'Pawn Sacrifice'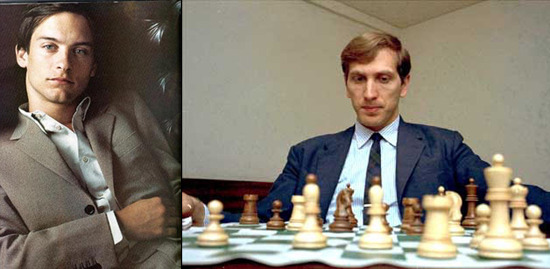 Few modern American historical figures are as mysterious and mythical as chess champion Bobby Fischer. The first American, and youngest World Chess Champion, who famously disappeared for several decades, has been the subject of multiple narrative and documentary films.
A new effort has recently moved up on the board. It's called Pawn Sacrifice and will be directed by Ed Zwick with Tobey Maguire set to play Fischer. Now Peter Sarsgaard and Liev Schreiber have joined the film, which has been gestating for several years with David Fincher once attached to direct. It finally starts filming in October.
The Hollywood Reporter broke the news of the new cast additions. Schreiber will play Russian Chess champion Boris Spassky, whose rivalry with Fischer was legendary, and Sarsgaard will play a priest who was a friend of Fischer.Stephen Knight (Eastern Promises) wrote the screenplay, which sounds like it follows Fischer's meteoric rise to fame as the first American World Chess Champion, followed by his two decade disappearance. It's territory well-covered both in the documentary Bobby Fischer Against The World as well as the tangentially related movie Searching for Bobby Fischer. Despite those two films, there has never been a big budget biopic specifically about Fischer himself. He's a fascinating character with an incredible story and this collection of talent is obviously intriguing.