Jonny Greenwood Scoring 'Inherent Vice' For Paul Thomas Anderson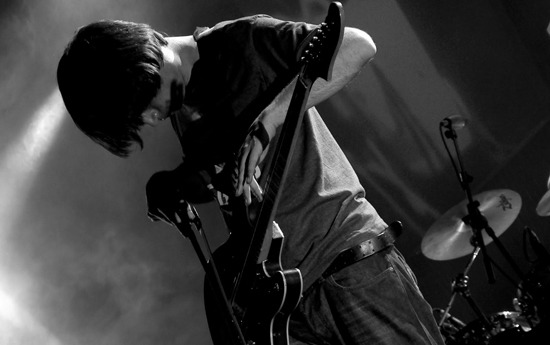 Paul Thomas Anderson and Jonny Greenwood are working together again. I can't quite think of Greenwood's music as fun — the Radiohead guitarist and occasional film composer creates sounds that are deeply affecting and even cacophonously emotional, but not "fun," exactly.
Anderson is also not exactly a poster child for levity. Yet his new film film Inherent Vice is based on a Thomas Pynchon novel that is among the author's most wacky and energetic books. It is certainly one of Pynchon's easiest reads, with some madcap criminal activities and a set of weirdo SoCal characters. It's a fun book, if one stretches the definition of "fun" into realms of the strange.
Anderson's facility with character and dialogue makes him seem like a great choice to tackle the material, and some of the story's tone should please fans who have always wanted another Boogie Nights from Anderson. Now the director has recruited Greenwood to provide the score.
Film Music Reporter has the news, saying that "Greenwood's score will be recorded this month with the Royal Philharmonic Orchestra in London." The two previously collaborated on There Will Be Blood and The Master, but the particulars of Inherent Vice mean that Greenwood wasn't a given when it came time to write music for the film. 
The very fact that this material isn't quite in the realm of the expected for either man is part of what make the combination appealing. I'm frankly excited to hear Greenwood's take on the sound of a '60s burnout trying to wrap up the comically tangled threads of his later life. And while the material is entertaining, that doesn't mean the music always has to be light.
Inherent Vice stars Joaquin Phoenix, Owen Wilson, Katherine Waterston, Martin Short, Reese Witherspoon, Jena Malone, Benicio del Toro, and Joanna Newsom, for starters. We don't yet have a release date for the film but rest assured that we'll let you know the moment one is announced.