First Look: Brad Pitt, Shia LaBeouf, And More In David Ayer's WWII Drama 'Fury'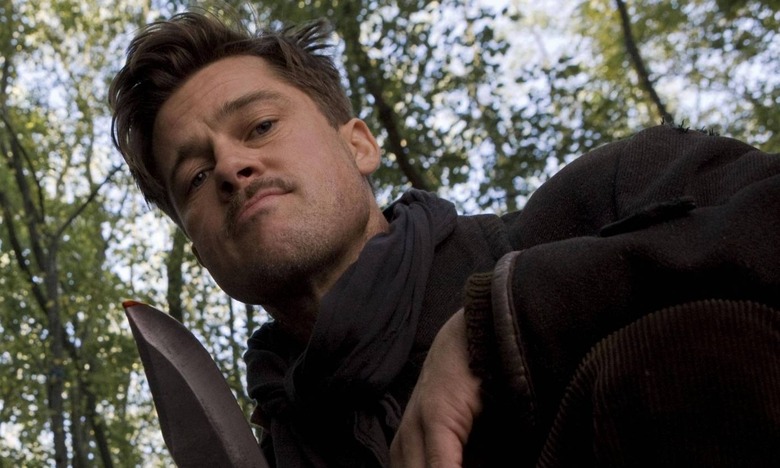 Four years after Inglourious Basterds (pictured above), Brad Pitt is heading back to World War II to take another crack at destroying the Nazis. But this time around, he'll take a very different approach.
Pitt leads the cast of David Ayer's Fury, which follows a heroic attempt by a Sherman tank crew to fight the bad guys from behind enemy lines. Also along for the ride are Shia LaBeouf, Michael Peña, Logan Lerman, and Jon Bernthal. The first photo from the film has just dropped, and you can check it out after the jump.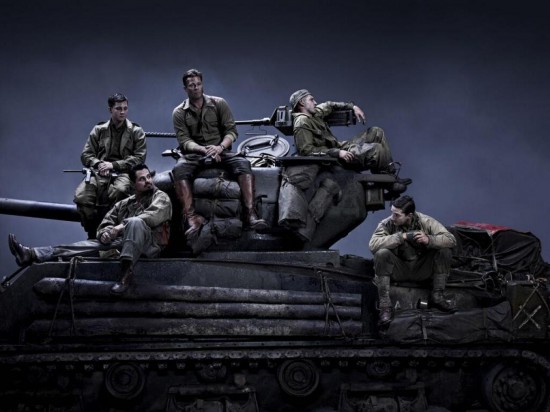 It's highly stylized, which suggests that this is just a promotional snap and not an actual still from the movie. Still, it offers a good look at the titular tank, and an intriguing peek at the five main characters.
Ayer's Twitter page includes several other photos from the set, including a couple with the stars. Below is one of Lerman, who's practically unrecognizable under all that grit.
#Fury Logan at war pic.twitter.com/RBPhN79iWv

— David Ayer (@DavidAyerMovies) September 17, 2013
And here's one of the actors — Bernthal, maybe? I can't tell, but please correct me if you can — atop the tank.
#fury pic.twitter.com/tWMDqpQa8Z

— David Ayer (@DavidAyerMovies) September 4, 2013
Set in spring 1945, near the end of the war, Fury follows a Sherman tank crew on a dangerous mission against battle-weary Nazis. Pitt plays Wardaddy, the tough sergeant leading the charge.
Ayer, who also wrote the script, previously stated that he wanted to "bring a fresh execution to the genre." He continued:
What these men went through is worthy of a complex, honest portrayal. This will have incredible, visceral action and complex rich characters. I plan to bring tank combat to life in a way that lands with a modern audience.
Producer Bill Block added, "Fury is not your father's WWII movie. It digs deep into the complexities of battlefield heroism."
Fury is shooting now in England for release on November 14, 2014. In the meantime, Ayer's next film, the Arnold Schwarzenegger-starring Sabotage, opens January 24.