Honest Trailer For 'World War Z' Plus Marc Forster Discusses Original Ending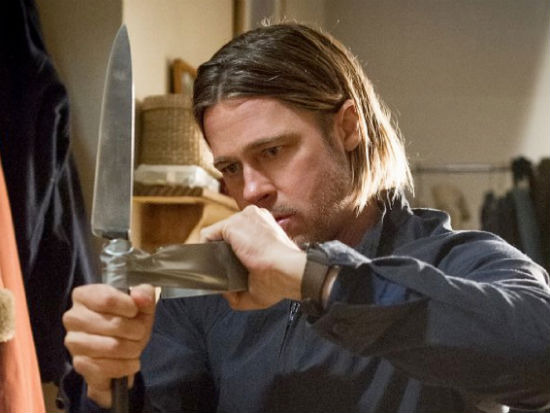 While many people despise the CinemaSins "Everything Wrong With" videos for being overly nit-picky and mean, it's damn near impossible to argue with the Screen Junkies "Honest Trailers." These serve a similar function, making fun of a well-known movie by pointing out its flaws. The tone is lighter and observations smarter, making the videos funnier and more, well, honest.
Their latest video, for the Brad Pitt zombie hit World War Z, might be the funniest yet. It makes light of the fact the film used so little of the source material, and included a ton of cliches, but still acknowledges that people liked it and the movie performed well.
And while we're on the topic of World War Z, which is now on Blu-ray, director Marc Forster spoke at length at the scrapped Russia-set ending of the film. Read that, and watch the trailer, below.
First up, here's the Screen Junkies Honest Trailer for World War Z. Hilarious.
Next up, Forster talked at length over on Movies.com about the Russian ending, which we've wrote about a bit in the past. Below, he gets into much more detail.
Basically in the original ending, after the Israel sequence and the plane crash, Gerry is in Russia, and the storyline of what he finds out at the WHO lab is what he finds in Russia but he applies his theory in a battlefield setting. We called it "The Battle of Moscow," and it's a huge battle with zombies and multiple other characters and ultimately Gerry defeats them by realizing that the zombies avoid him and go around him [after injecting himself with a virus]. So it's in Russia, at night, in a snowstorm with thousands of zombies and big battles; kind of the scope of the Israel sequence. Some of that footage is still in the film, you see it during the montage when Gerry journeys back to his family on that small boat, we see a few glimpses from that battle. We never finished that footage because we all agreed after Israel and the plane crash you're battle fatigued and you really want the movie to be more quiet and you don't want it to go into another huge combat situation.
The problem with that battle sequence is you get lost because obviously you can't just stay with Gerry, you have so much more going on. So you lose the connection with him. What the ending should really be about is solving that riddle [of how to combat the zombies] with him. And to make it a more quiet and suspenseful is a much more interesting approach than to do it in a big battle way. That's how these discussions came about and why we ended up setting the ending in a World Health Organization lab. As in all of my movies, I'm always about the character, about these quiet moments. So I was really happy when everyone came around and agreed and supported that vision.
And that's just part of it. Head over to Movies.com for Forster's thoughs on both the new, and original, ending.
Are you glad they changed the ending? What do you think of the Honest Trailer?