Pixar Skips 2014 As 'The Good Dinosaur' Shifts To 2015 And 'Finding Dory' To 2016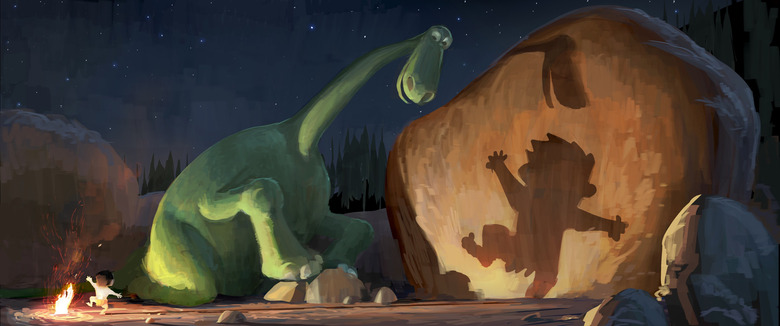 There will be no new Pixar movie in 2014. The highly decorated computer animation company, which is owned by Disney, has pushed the release of The Good Dinosaur from June 2014 to November 25, 2015. But wait, wasn't Finding Dory scheduled for that date? It was, but now the underwater sequel will open June 17, 2016.
Disney also moved the Angelina Jolie film Maleficent up from July 2, 2014 to May 30, 2014, the space vacated by The Good Dinosaur.
The LA Times broke the news of these surprising release date shifts. Well, maybe the one is not so surprising.
Despite showing off some great footage at the D23 Expo, director Bob Peterson's absence suggested The Good Dinosaur was having some issues. That was confirmed a few weeks later and now, with the release date shift, it's pretty obvious the problems are deeper than just a simple changing of the guard.
Pixar president Ed Catmull said the following to the LA Times about the change:
Nobody ever remembers the fact that you slipped a film, but they will remember a bad film. Our conclusion was that we were going to give the [dinosaur] film some more time.
That leaves Pixar without a release in 2014, the first year since 2005 in which the company will not release a film. 2015, on the other hand, will be the first year they release two films: Inside Out and The Good Dinosaur. That second slot was supposed to go to Finding Dory, Andrew Stanton's sequel to Finding Nemo. As that film is not as complete as The Good Dinosaur, a move to June 2016 gives the team several more months to make sure it lives up to the expectations following the Oscar-winning original.
While this is frustrating for Pixar and film fans alike, Catmull is right. Very few of us notice the particulars of when a movie is released. What we do care about is having a great movie that stands the test of time. No matter how long that takes, it's never longer than forever. An extra 18 months might seem like a long time now, but we won't care if the movie lives up to its Pixar pedigree.
Are you surprised Pixar won't have a film in 2014? Would you rather wait and have a good movie?