Simon Pegg, Luke Hemsworth And Teresa Palmer Star In 'Kill Me Three Times'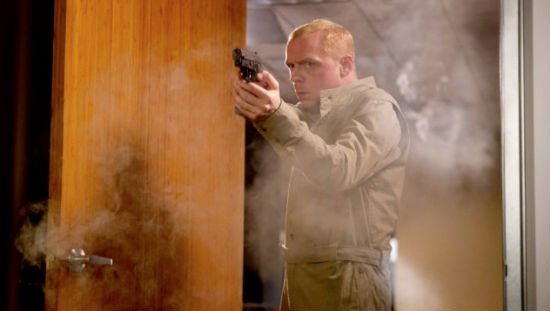 Most of us know Simon Pegg as a goofball. Even when he's being serious and kicking ass, he still has incredible comic timing. His latest role, though, sounds like it'll go against that. He's headlining an ensemble cast in the Australian crime drama Kill Me Three Times, directed by Kriv Stenders and written by James McFarland. Pegg plays an assassin trying to kill a singer, with the story told from three different points of view.
Among the actors who'll fill out the other stories are Teresa Palmer (Warm Bodies), Luke Hemsworth (brother of Liam and Chris), Sullivan Stapleton (300: Rise of an Empire), Alice Braga (Elysium), Bryan Brown (Cocktail) and Callan Mulvey (Captain America: The Winter Soldier).
Variety and Deadline both broke casting news on this film. Here's how Deadline describes the plot:
A singer in a surf town (Braga) is the link between three tales of murder, blackmail, and revenge. Pegg plays an assassin hired by the singer's husband (Mulvey); Stapleton is a gambling addict trying to pay off his debts through a life insurance scam masterminded by Palmer's small town Lady Macbeth. Brown is a corrupt cop and Hemsworth plays a surfer trying to save Braga from her would-be killer.
This is McFarland's first script but Stenders' is using this film as his follow up to Red Dog, a 2011 film starring Josh Lucas that was a big surprise hit in Australia. It grossed about $22 million Australian, making it the highest grossing Australian film of the year and 9th highest grossing Australian film of all time. That kind of success means you can write your own ticket and Stenders' choice to do this film speaks volumes.
Sounds cool and it's currently filming Down Under. Do you think it'll hit the US?