'Great Expectations' Trailer: Helena Bonham Carter Doesn't Take Breakups Well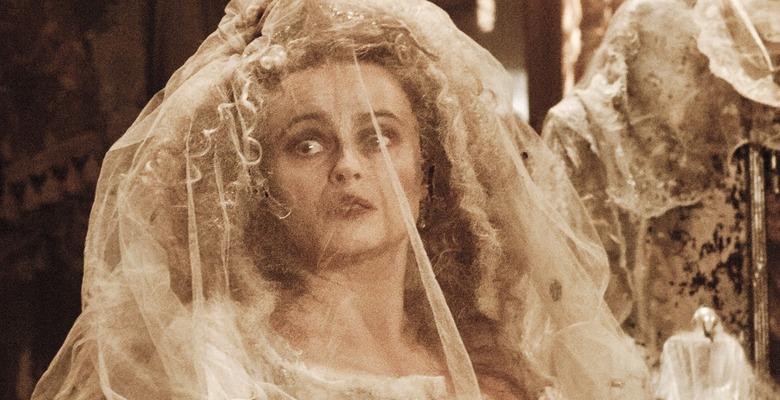 To be totally honest, we kinda forgot that Mike Newell's Great Expectations existed at all. Can you blame us? The project started casting two and a half years ago, released a trailer and got a TIFF premiere a year ago, and since then we've heard next to nothing about it. But now it's getting ready for a U.S. theatrical opening at long last, and distributor Main Street Films is eager to remind you of its charms with a brand-new trailer.
Jeremy Irvine leads the classic Charles Dickens tale as Pip, an orphan plucked out of poverty by a mysterious benefactor. He falls for beautiful but unattainable Estella (Holliday Grainger), the adopted daughter of bitter Miss Havisham (Helena Bonham Carter). Ralph Fiennes, Jason Flemyng, Sally Hawkins, and Robbie Coltrane also star. Watch the video after the jump.
The movie doesn't look bad per se, but given that this is a tale that's been told time and time again it's disappointing that Newell doesn't take a more original approach. We're not saying he should've gone full Luhrmann, but this looks as fresh as Miss Havisham's wedding dress. You know, the one she hasn't taken off since she was jilted decades ago.
But hey, speaking of Miss Havisham, Newell's casting of Bonham Carter is beyond reproach. Who better to play one of the most iconic mad women of literature?
Great Expectations gets a limited rollout starting November 8.
Great Expectations is one of the classic love stories of all time, and touches on all aspects of that thrilling experience. A young boy, lifted from obscure poverty, to be given a glimpse of life as it could be for him. A young girl, taught never to let others into her heart. Together, the possibility of love. Apart, despair.
What young man has never dreamed of discovering that their drab life of work and burden is to be cast aside, in favor of privilege and good fortune. What young person could seize such an opportunity without making enemies as well as friends. What young woman has not turned their face to the sun, and dreamed of its warmth for her heart.
Pip and Estella, their story.