'The Imitation Game' Begins Filming With Benedict Cumberbatch And Keira Knightley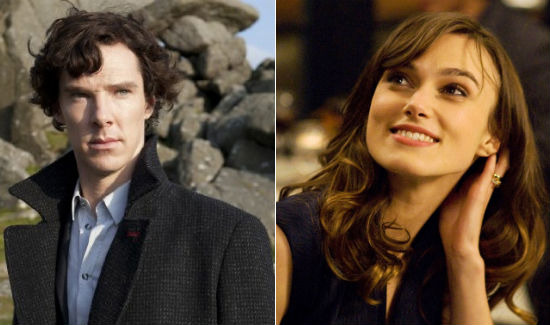 Benedict Cumberbatch sure does love movies about technology. He stars as WikiLeaks founder Julian Assange in The Fifth Estate;Star Trek is based around technological advancement; and now the Sherlock star will play one of the most famous computer scientists and codebreakers in history. Leonardo DiCaprio was circling the film, The Imitation Game, a while back, but the role went to Cumberbatch.
Production has just begun on The Imitation Game, directed by Morten Tyldum (Headhunters). It tells the story of Alan Turing, a British computer pioneer who is (among many other achievements) credited with cracking a top-secret German code during World War II. Cumberbatch plays the lead (which we already knew), Keira Knightley is a fellow code-breaker, and they're joined by Matthew Goode, Mark Strong and Rory Kinnear.
Here's the full press release on the start of filming. There's no release date set for the film, but Fall 2014 seems likely.
THE IMITATION GAME, which began principal photography in the UK yesterday, is a dramatic portrayal of the life and work of one of Britain's most extraordinary unsung heroes, Alan Turing.The pioneer of modern-day computing, Turing is credited with cracking the German Enigma code and the film is a nail-biting race against time by Turing and his brilliant team at Britain's top-secret code-breaking centre, Bletchley Park, during the darkest days of World War II. Turing, whose contributions and genius significantly shortened the war, saving thousands of lives, was the eventual victim of an unenlightened British Establishment, but his work and legacy live on.Benedict Cumberbatch ("The Fifth Estate", "Star Trek Into Darkness", and TV's "Sherlock") and Keira Knightley (BAFTA nominee for "Atonement", Oscar® nominee for "Pride and Prejudice") will star as Alan Turing and his close friend and fellow code-breaker Joan Clarke, alongside a top-notch cast, including Matthew Goode ("Stoker", "A Single Man"), Mark Strong ("Tinker Tailor Soldier Spy"), Rory Kinnear ("Skyfall"),Charles Dance ("Gosford Park", TV's "Game of Thrones"), Allen Leech ("In Fear", TV's "Downton Abbey") and Matthew Beard ("An Education").Norwegian filmmaker Morten Tyldum, 2012's BAFTA nominee for "Headhunters", is directing from a screenplay by Graham Moore, based on the book "Alan Turing: The Enigma" by Andrew Hodges.Black Bear Pictures' Teddy Schwarzman is producing alongside Nora Grossman and Ido Ostrowsky, with Moore as executive producer and Peter Heslop ("The King's Speech") as co-producer. Behind-the camera talent includes director of photography Óscar Faura ("The Impossible"), editor William Goldenberg (Oscar® winner for "Argo"), production designer Maria Djurkovic ("Tinker Tailor Soldier Spy"), hair and make-up designer Ivana Primorac ("Anna Karenina"), casting director Nina Gold ("Les Miserables") and composer Clint Mansell ("Black Swan").FilmNation Entertainment is handling International Sales, with CAA representing US Domestic. STUDIOCANAL has all rights in the UK.