Filming Begins On 'Paddington' Starring Colin Firth, Nicole Kidman And Hugh Bonneville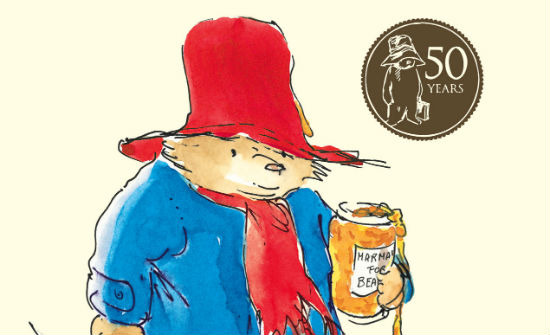 Another incredibly popular children's book series is getting the big screen treatment. This time it's Paddington, which is about a small bear who travels to London and gets taken in by a kind family. Based on the popular series written by Michael Bond, Oscar-winner Colin Firth will provide the voice of the Paddington bear, Oscar-winner Nicole Kidman will play a villainous taxidermist and Hugh Bonneville (Downton Abbey) and Sally Hawkins (Happy Go Lucky) are the mother and father. Also appearing in the film, which will be a mixture of live action and CG, are Harry Potter alums Julie Walters and Jim Broadbent.
David Heyman, producer of Gravity and the Harry Potter films, is producing and Paul King (The Mighty Boosh) is directing. It'll be released in the UK in November 2014 and in the US early 2015.
Here's the full press release on the film. –
Producer David Heyman and Studiocanal are delighted to announce the start of principal photography in September and to unveil a star-studded cast for their forthcoming family adventure PADDINGTON, based on the beloved fictional character from children's literature created by Michael Bond in 1958. In addition, Bob and Harvey Weinstein have acquired North American rights and will release the film under new moniker TWC-Dimension.Produced by David Heyman (producer of all eight of the Harry Potter films, Gravity, The Boy in the Striped Pajamas), PADDINGTON is being helmed by twice BAFTA nominated director Paul King (Come Fly With Me, The Might Boosh). Studiocanal developed the film, is fully financing and will distribute in the UK, France, Germany, Australia and New Zealand, and is handling international sales. The film will open in the UK November 28th, 2014. The film will be released wide in North America by TWC-Dimension in the first quarter of 2015.The first ever live action film inspired by Michael Bond's best-selling books, will star BAFTA Awardnominee Hugh Bonneville (Downton Abbey, Iris, Notting hill) as Mr Brown, Academy Award-winner Colin Firth (The King's Speech, A Single Man, Bridget Jones's Diary) as the voice of Paddington Bear and Academy Award-winner Nicole Kidman (The Hours, Rabbit Hole, Moulin Rouge) as the evil taxidermist determined to wreak her revenge. The cast are joined by Golden Globe Award-winner Sally Hawkins (Happy Go Lucky, Layer Cake, Made in Dagenham) as Mrs Brown and Academy Awardnominee Julie Walters (Billy Elliot, Educating Rita, Harry Potter) Mrs Bird the housekeeper and Academy award winner Jim Broadbent (Iris, Harry Potter, the Iron Lady) to play Mr Gruber the owner of the antiques shop.The story follows the comic misadventures of a young Peruvian bear with a passion for all things British who travels to London in search of a home. Finding himself lost and alone at Paddington Station, he begins to realize that city life is not all he had imagined – until he meets the kindly Brown family who read the label around his neck ('Please look after this bear. Thank you.') and offer him a temporary haven. It looks as though his luck has changed until this rarest of bears catches the eye of a museum taxidermist...David Heyman said "It's a great honour to be able to bring Michael Bond's beloved character to the big screen. I am hugely excited to be working with Paul King, whose imagination, flair, and sense of wit and wonder, make him the ideal director. And I am thrilled that we now have such an exceptional cast to bring the story of Paddington Bear to life."Olivier Courson, Studiocanal Chairman and CEO said: "We're very happy to announce all of this good news at the same time. We've been developing the film with David Heyman for a while. Starting the shoot with such a great cast is a dream come true. And we are thrilled to have Harvey and Bob Weinstein joining us in the adventure.""We have both always loved the stories of Paddington Bear and the amazing library of work from David Heyman. This film has the sensibilities of classic filmmaking as well as commercial appeal. We are excited to partner with Studiocanal and look to this as a potential future franchise, bringing this long time cherished character to the big screen for the first time," said Bob Weinstein and Harvey Weinstein, co-chairmen of The Weinstein Company.PADDINGTON will be the first release under the new moniker TWC-Dimension which has Bob and Harvey teaming up in acquiring, developing, producing and distributing films for which they both share a common passion. Although Bob and Harvey have built their company working side by side, they have been primarily responsible for their own labels, Harvey focusing on TWC and Bob on Dimension Films. TWC-Dimension will allow for the brothers to join forces and combine some of the core prestigious sensibilities of a TWC film as well as the mainstream sensibilities of a Dimension film. The new moniker would further be used to expand and develop future franchises allowing collaborations with respected and emerging filmmakers and talent on productions and acquisitions of all budget ranges.