'Homefront' Trailer: Sylvester Stallone Pits Jason Statham Against James Franco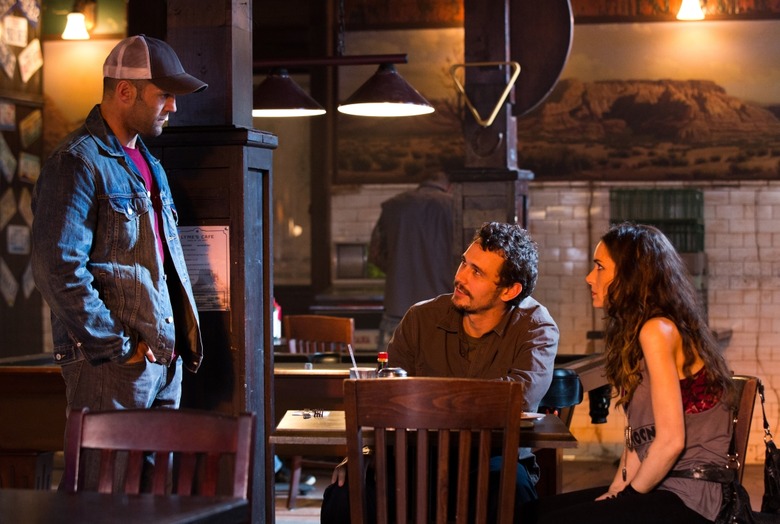 In most respects, Gary Fleder's Homefront sounds like a pretty typical action thriller. Jason Statham stars as a retired DEA agent, who moves to a small, quiet town for the sake of his young daughter. Once there, however, he quickly gets entangled with the local villain, a drug lord played by... James Franco. Wait, what?
It's an oddball combination for sure, but it's also an effective one in that it got our attention right away. In addition to those two, Kate Bosworth, Winona Ryder, and Rachelle Lefevre also star. Oh, and Sylvester Stallone wrote the script based on book by Chuck Logan. Watch the trailer after the jump.
On the one hand, Franco is the last guy we'd expect to see playing the villain of a Statham movie. The Oscar-nominated actor/author/director/artist has an artsy, intellectual reputation that doesn't exactly jibe with the stylish actioners that Statham's become known for.
On the other hand, of course Franco is playing the villain in a Statham movie. This is a guy who veers between William Faulkner adaptations and stoner comedies, R-rated arthouse flicks and family-friendly fairy tales — along with the occasional General Hospital stint for good measure. If there's one thing we've come to expect from Franco, it's the unexpected.
Overall, Homefront looks pretty silly. Statham's all-American act (he's even decked out in stars and stripes on the poster below) might be more convincing if he didn't still have a British accent. Franco's Gator isn't terrifying so much as terrifyingly bizarre. And their epically violent battle all begins thanks to a minor tussle between schoolkids, if the trailer is to be believed.
But silly isn't always bad, and in fact Homefront looks kind of awesome in its own way. Watching Statham beating up Franco sounds like a deeply satisfying experience, and we say that as fans of both men. Plus, Bosworth deserves credit for her incredible transformation. She's barely recognizable as the druggie mom who gets Gator involved.