'The Wind Rises' Will Get Oscar Qualifying Run In November, Wide Release In February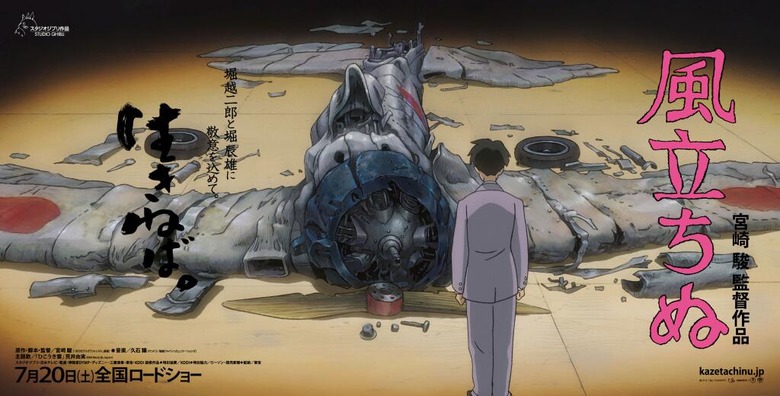 Disney has finalized release plans for what's likely to be the last film Hayao Miyazaki will ever direct: The Wind Rises.
The Studio Ghibli film will get an Oscar qualifying run in New York and Los Angeles from November 8-14, a limited release on February 21, 2014 and then expand on February 28, 2014. It'll screen in the original Japanese with English subtitles. After the jump, read the full press release.
The Walt Disney Studios and Studio Ghibli revealed North American release plans for "The Wind Rises," a Studio Ghibli film written and directed by Hayao Miyazaki ("My Neighbor Totoro," "Spirited Away," "Ponyo"), at the North American premiere of the film today at the Toronto International Film Festival. The film is slated for limited release in North American theaters on Feb. 21, 2014, and expanded release on Feb. 28, 2014, under the Touchstone Pictures banner. "The Wind Rises" will also open for Academy Award® qualification engagements in New York and Los Angeles Nov. 8-14, 2013, showcasing the original film in Japanese with English subtitles.In "The Wind Rises," Jiro—inspired by the famous Italian aeronautical designer Caproni—dreams of flying and designing beautiful airplanes. Nearsighted from a young age and thus unable to become a pilot, Jiro joins the aircraft division of a major Japanese engineering company in 1927. His genius is soon recognized, and he grows to become one of the world's most accomplished airplane designers. The film chronicles much of his life, and depicts key historical events that deeply affected the course of Jiro's life, including the Great Kanto Earthquake of 1923, the Great Depression, the tuberculosis epidemic and Japan's plunge into war. He meets and falls in love with Nahoko, and grows and cherishes his friendship with his colleague Honjo. A tremendous innovator, Jiro leads the aviation world into the future. Miyazaki pays tribute to engineer Jiro Horikoshi and author Tatsuo Hori in his creation of the fictional character Jiro—the center of the epic tale of love, perseverance, and the challenges of living and making choices in a turbulent world.The film made its international debut at the Venice Film Festival earlier this month, and its North American premiere with an official screening at the Toronto International Film Festival this evening. It was showcased at the Telluride Film Festival and will also play at the upcoming New York Film Festival.