'Anchorman 2: The Legend Continues' Promo: Ron Burgundy Reports On Racing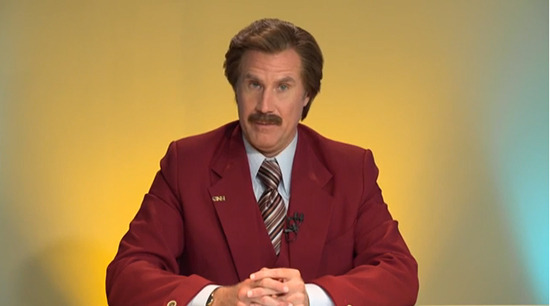 Unless you're a British racing fan, chances are you might not know of the Goodwood Revival. Held each September, the event takes place at a circuit near Chichester that was originally operative from '48 to '66, and features races in which drivers compete against one another in cars from that time span. It's old-timey stuff, but pretty nifty, especially if you're into vintage cars.
Ron Burgundy doesn't know much about the Goodwood Revival, but then he's Ron Burgundy. I wouldn't expect him to know much about, well, anything. That doesn't stop him reporting on it, complete with some unecessary and mildly funny extra commentary. He's just like the internet! Watch Burgundy's report on the Goodwood Revival below.
This is, of course, a promo for Anchorman 2: The Legend Continues, which opens on December 20.
With the '70s behind him, San Diego's top rated newsman, Ron Burgundy (Will Ferrell), returns to the news desk in "Anchorman 2: The Legend Continues." Also back for more are Ron's co-anchor and wife, Veronica Corningstone (Christina Applegate), weather man Brick Tamland (Steve Carell), man on the street Brian Fantana (Paul Rudd) and sports guy Champ Kind (David Koechner) – All of whom won't make it easy to stay classy...while taking the nation's first 24-hour news channel by storm.