Robert Zemeckis Could Direct 'Chaos Walking' Written By Charlie Kaufman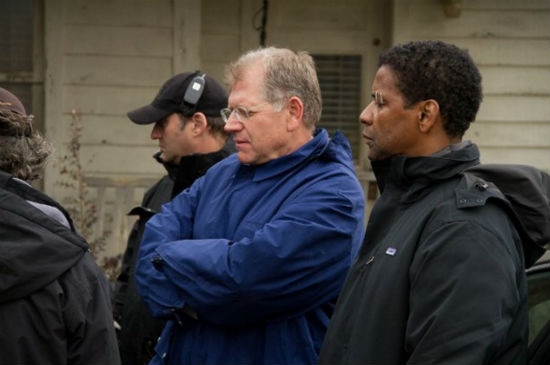 We may receive a commission on purchases made from links.
The writer of Adaptation and director of Back to the Future might soon be working together on a potential franchise. Robert Zemeckis is in talks to direct Chaos Walking, based on Patrick Ness' series of popular young adult novels. Charlie Kaufman adapted the screenplay. Chaos Walking, which is comprised of three books, tells the story of futuristic human males on a recolonized planet where a new disease suddenly makes all thoughts audible. There a young boy and his dog happen upon a lone, mysterious girl who is eerily silent. Lionsgate owns the rights and will distribute. 
The Wrap broke the news of this potential vehicle for Zemeckis, who is coming off the hit Oscar-nominated film Flight. Apparently, he's been weighing multiple projects, including Chaos Walking, for some time and is getting closer to settling on this. The fact Kaufman, a fellow Oscar winner, wrote the script certainly helped but no deal is yet in place.Chaos Walking is a trilogy, much like that other YA Lionsgate hit franchise The Hunger Games, and the company hopes this could fill that void once the series ends in 2015. Here's the description of the first book, The Knife of Never Letting Go, from its Amazon page.
Todd Hewitt is the only boy in a town of men. Ever since the settlers were infected with the Noise germ, Todd can hear everything the men think, and they hear everything he thinks. Todd is just a month away from becoming a man, but in the midst of the cacophony, he knows that the town is hiding something from him — something so awful Todd is forced to flee with only his dog, whose simple, loyal voice he hears too. With hostile men from the town in pursuit, the two stumble upon a strange and eerily silent creature: a girl. Who is she? Why wasn't she killed by the germ like all the females on New World? Propelled by Todd's gritty narration, readers are in for a white-knuckle journey in which a boy on the cusp of manhood must unlearn everything he knows in order to figure out who he truly is.
The idea sounds a bit like Y The Last Man, but with a girl on another planet, plus the What Women Want thing. I've never heard of the books until reporting on this so I can't vouch for them, however, Zemeckis and Kaufman's interest has piqued mine as well. What do you think?