Hugh Jackman's Wolverine Almost Had A Cameo In Sam Raimi's 'Spider-Man'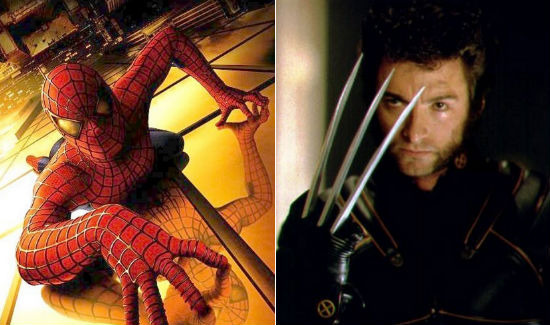 In the era of The Avengers, Batman vs. Superman and X-Men: Days of Future Past, comic book movies have begun to look more like comic books. Multiple movies featuring multiple characters all take place in the same universe, making crossovers possible. There are, unfortunately, some crossovers that are currently impossible because various studios own the rights to major characters. Spider-Man, for example, is at Sony, while the X-Men and Fantastic Four are at 20th Century Fox. That makes crossover with the Marvel Studios characters legally difficult.
According to Hugh Jackman, those barriers almost broke down in 2002. A few short years after Bryan Singer's original X-Men, then lower level Marvel producer Kevin Feige suggested Wolverine cameo in Sam Raimi's Spider-Man. Jackman even traveled to the city, but something stopped it from happening.
Jackman spoke about the near cameo in an interview with the Huffington Post:
In the first "Spider-Man" — Kevin Feige reminded me of this — we really tried to get me to come on and do something, whether it was a gag or just to walk through the shot or something. The problem was, we couldn't find the suit. The suit was stuck in something. And so when they were in New York when I was there, we couldn't get it together.
So, you know, I actually asked some high level people about it. Because the optimist in me goes, "Why not? Why can't we do it? You know, a split cast or whatever?" And someone reminded that the amount of money Fox paid compared to the amount of money Disney paid is very different [laughs]. So how you split that pie up? God knows. But in the comic books, what's great about it is they're just mashing together all the time — and it's awesome. And people are like, "Yeah, well, let's get this one with that!" And, you know, I still think, one day, there may be an ability to do it.
Even though X-Men and Spider-Man were sort of the two-stage birth of the modern superhero movie, it seems odd this almost happened. More odd, in fact, that the suit was mysteriously unavailable. How was it legally possible then but not now? Maybe it was just too early for Fox and Sony to really think about the ramifications?
How do you think this cameo would have changed superhero movies today? Would The Avengers have been less impactful?