VOTD: TCL Chinese Theatre IMAX Renovation Time Lapse Video; Plus Facts On The New Theatre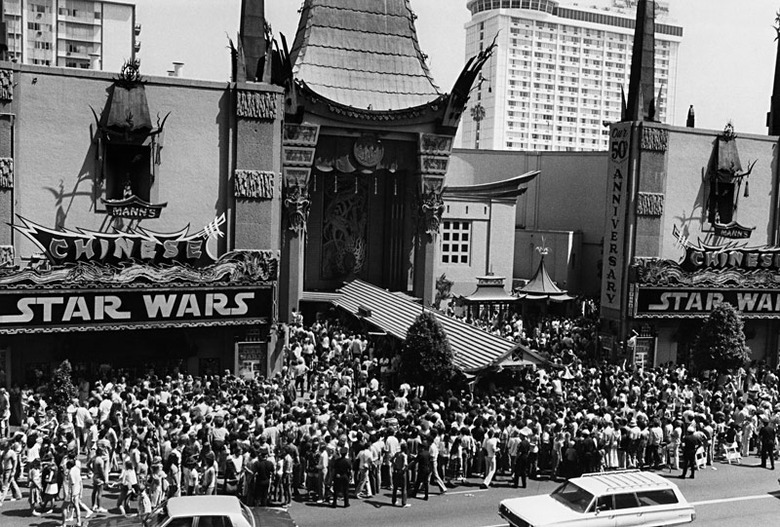 What does it look like when you take the most famous movie theater in the world and convert it into the largest IMAX theater in the world? Probably something like this.
IMAX has just released a time lapse video showing the renovation of Grauman's Chinese Theater in Hollywood, CA into the brand new TCL IMAX Chinese Theatre. The renovation began May 1 and will end on September 20 when the theater reopens with a special 3D IMAX presentation of The Wizard of Oz. (A film that, not coincidentally, premiered at the same location in 1939.) With room for 932 people, the TCL IMAX Chinese Theatre is largest IMAX theater in the world in terms of seating capacity. As for the screen itself, it's the third largest commercial IMAX screen in North America measuring 90 feet by 46 feet. This is most definitely not LieMAX.
Below see, and read, how a movie house that opened in 1927 was converted into one of the most technological advanced theaters in the world. 
Here's the time lapse video.
Earlier this week, I was lucky enough to attend a small press gathering to learn about the new theater and did just that. The president of TCL Chinese Theatre, Alwyn Hight Kushner, provided a bunch of interesting information.
To make room for the giant screen, the construction went about 10-15 feet deep into the ground, breaking through the former orchestra pit and into the basement and even the dirt. 
Creating the stadium seating, they poured foam core down from the historical main entrance to form a stadium like feel, then continued down into that floor.
Anything considered "historic" was kept intact, and some of it was even improved with cleaning, painting and new lighting. LED's are now the only lights in the theater.
All the seats are new and modern but were custom designed to keep the shape as the originals.
They worked with various historical and movie preservation societies to make sure the theater kept everything it needed to.
Because they kept the original theater's curtain (with a few extensions) it's the only IMAX theater in the world with a curtain.
My first impression of the theater was one of beauty, but as you began to get closer to the screen and turn around to look, the size of the entire place is massive. It's going to be a very fun place to see a movie, and a must-stop for any film fan visiting Los Angeles.
Later this week, we'll have some words from Brian J. Bonnick, the principal engineer and Chief Technology Officer for IMAX to discuss how this IMAX theater is innovating not only IMAX theaters, but movie theaters in general.