Batman Trivia: Josh Brolin Confirms Talks; Jennifer Garner And Hugh Jackman On "Batfleck"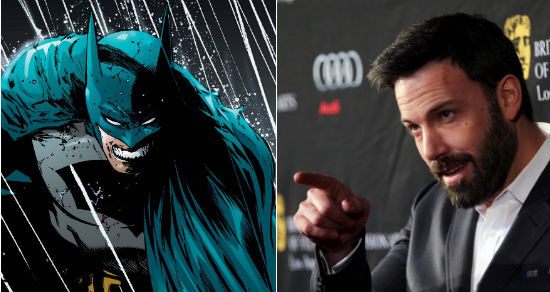 Fans were not terribly thrilled with Zack Snyder's choice for Batman in his Man of Steel sequel, to put it mildly. But Ben Affleck has plenty of supporters among the celebrity set — including Josh Brolin, who was up for the role before Affleck landed it. "I'm happy for Ben," he said.
Also rallying behind Affleck are Hugh Jackman, who should know a thing or two about controversial superhero casting decisions, and Jennifer Garner, who as Affleck's wife is more or less obligated to back him up in public. Hit the jump to read reactions from Brolin, Jackman, and Garner.
We did. I didn't have conversations about it, but Zack, that was part of his idea. It just didn't turn out. It's OK. It is OK. You know, another scenario might have worked better, but I'm happy for Ben.
He also feels plenty of sympathy for Affleck, who's been the subject of much vitriol from disappointed fans.
I've never seen such a global reaction in my life. I feel for him, truly. I would not want to be him right now. The reaction becomes so personal. It's like, 'Fuck this guy, I wish he was dead.' And you're like, 'What? Dude, seriously? This guy is just working like you are. He's doing the same thing you are. He's trying to make the best choices he can.'
Brolin continued, "I want him to kick ass and I want everyone to love it and kind of eat their words."
Meanwhile, Jackman, told ET Canada that he could help get Affleck in shape.
I have a great trainer for Ben. But Ben is poised to crush it. I'm really happy for him. I'm so happy he got the part. The difficult part of the role is the Bruce Wayne part. I think he will crush it, and I'm really excited to see what he does. He's ready for it. I love Ben—he's super smart, very talented, and he will be around for a long time. I think people are gonna love it.
Jackman himself raised some eyebrows in the late '90s when he was cast as Wolverine in the first X-Men, but has since established himself as the big-screen franchise's most popular character. He'll reprise the role a seventh (!) time in next year's X-Men: Days of Future Past.
Affleck's wife Garner is no stranger to the comic book world either, having played Elektra opposite Affleck in 2003's Daredevil and again in her 2005 spinoff. But in her response to the press, she simply spoke about her excitement for her husband's latest role.
I'm excited about Batman, of course. Everything we do, we look at it together, and  we say, 'Can we handle this? Can we take this?' And this was one where we were like, 'Let's go to Michigan!'
The Man of Steel sequel opens July 17, 2015.