First Plot Details Revealed For '22 Jump Street,' Plus Casting Continues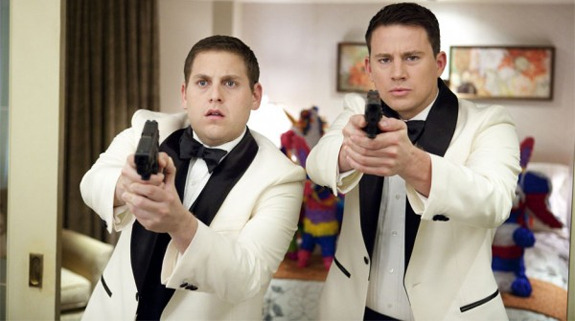 The sequel to 21 Jump Street, 22 Jump Street, was always going to take place in college. That much was locked in from the film's final scene. But what would Schmidt (Jonah Hill) and Jenko (Channing Tatum) be doing with their time? Those story points have begun to leak out as casting for the sequel, scheduled for release June 13, 2014, continues. Ice Cube is now confirmed to return and Greek star Amber Stevens has been cast, potentially as his daughter (and definitely as Hill's love interest). Read more about that, and the plot, below.
The Wrap first reported Stevens being cast and Collider mentioned Ice Cube a few months ago, with official confirmation coming via the Hollywood Reporter.
In The Wrap story, the college conflict is described as follows:
"22 Jump Street" follows officers Schmidt (Hill) and Jenko (Tatum) as they go deep undercover at a local college. But when Jenko meets a kindred spirit on the football team and Schmidt infiltrates the bohemian art major scene, they begin to question their partnership. In addition to cracking the case, the two freshmen must figure out if they can have a mature relationship like real men.
Up until now, all we knew – thanks to directors Phil Lord and Chris Miller – was that the film would center on that relationship. The activities are new:
It's more about their marriage, basically. If the first movie is about two people getting together for the first time, this is about what happens if you try to really make the relationship work. We'll probably never do another bromance after this one, but we're trying to get as emotionally deep into that as possible.
Football and art sound very on the nose when it comes to the roles each character will play, but the first film already flipped that on its head. This time, hopefully, there's something else to subvert genre convention.
Also revealed is new cast member Wyatt Russell will play one of Tatum's teammates.
22 Jump Street, written by Michael Bacall and Oren Uziel, opens in June.