Watch: Penn Jillette In A Clip From Telluride Hit 'Tim's Vermeer;' Plus Early Buzz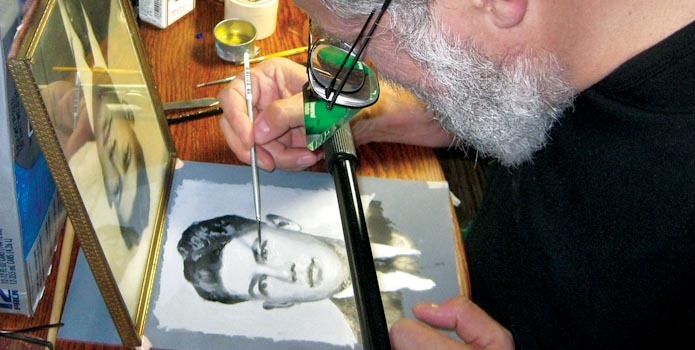 Of all the films that got incredible buzz out of last week's Telluride Film Festival (12 Years A Slave, Labor Day, Gravity, etc.) one stood out just because it sounded so very different. That film was Tim's Vermeer, a documentary by noted magicians Penn and Teller. Penn produced and Teller directed the film, which follows inventor Tim Jenison on his attempt to duplicate the famous painting The Music Lesson by Johannes Vermeer. Jenison surmises that Vermeer may not have painted all his famous works by hand, instead using technology to aide in the creation. By attempting this, Jenison (as well as Penn and Teller) question the very nature of art itself.
Below, we've got a clip from the film that makes that above paragraph a bit more clear, as well as some early buzz from noted film critics.
First up, the Toronto Film Festival (which is also screening the film) posted the below clip.
And here is some early buzz on the film, which is incredibly positive. Could a Best Documentary nomination be in the cards?
So entertaining that audiences hardly even realize how incendiary it is, "Tim's Vermeer" stirs up a flurry of scandal in the hallowed realm of art history. Obsessive inventor Tim Jenison has a hunch that the only explanation for the photorealistic quality evident in the work of 17th-century Dutch painter Johannes Vermeer is that he "cheated," using lenses or some other technological apparatus to achieve such remarkable detail. Jenison devises a five-year science experiment to test his theory, emerging with an uncanny crowdpleaser — the secret weapon in Sony Pictures Classics' fall arsenal — that plays like the ultimate episode of "MythBusters."
The film, directed by the magician Teller in his feature-film debut, is a fascinating exploration of how Vermeer might have used lenses and mirrors to master the representation of light and perspective.  In a larger sense, it challenges the idea that art and science, rather than being divergent fields, can actually be complementary.
Tim's Vermeer, a little doc produced by Penn Jillette and directed by Teller – yes, that Penn & Teller — is one of the great gems of the fest, and received applause accordingly. The good news for those not here in the Rockies: Sony Pictures Classics will release it sometime this year in order to qualify it for the best documentary feature Oscar race. My own gut feeling is that it will wind up as one of the nominees.
Tenison received one of the most enthusiastic standing ovations I've seen in my five years attending Telluride. And the film itself, which is set for release this year by Sony Pictures Classics, has quietly become one of the biggest hits of the festival, an instant success story that is sure to pick up more steam at Toronto next week. The film could even crack the Best Documentary Feature category come Oscar time, because it definitely elicits a response. It's an unassuming work that says that, for all our faults, humanity can achieve wonders.
This documentary is one of those wonderful discoveries at a film festival that I'm so glad I decided to walk into and watch. I honestly had no idea what I was getting into, what we would see, if it would be boring or interesting, and yet I had a great time. It's not a doc that will entice art history buffs or change anyone's mind about Vermeer (maybe), but it is a doc that will make you smile, laugh and watch in awe as one man, who has never painted before, attempts to recreate Vermeer with his own hand.
It's a funny, sweet, endearing, and even moving doc directed with style by first timer Teller. It's good enough to suggest that Penn & Teller could have a healthy filmmaking career ahead of them if they ever decide to give up the Vegas millions.
Tim's Vermeer will be released later this year to qualify it for the Academy Awards. It'll expand in early 2014.