Marvel Wants Female Superhero Film; Katee Sackhoff Has Been Contacted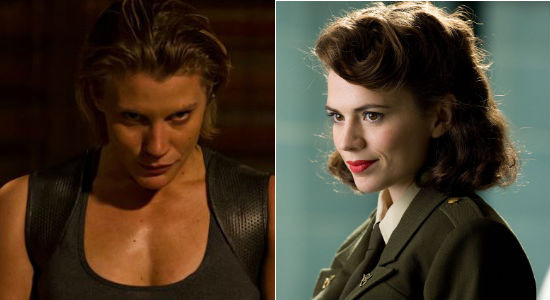 After several male dominated films in the Marvel Cinematic Universe, more attention is turning to women. Besides the inclusion of Scarlet Witch in Avengers: Age of Ultron, Marvel director/producer Louis D'Esposito was recently quoted saying the company wants to make a female lead superhero movie. He even offered up the character Captain Marvel as a possibility.
So who could play a role like that? Well someone at Marvel must really like the cast of Riddick. Dave Bautista and Vin Diesel were both cast in Guardians of the Galaxy and now it's come out that Marvel has had discussions with Katee Sackhoff. The Riddick and Battlestar Galactica star revealed as much on a recent podcast, stating Marvel inquired about her availability during the first quarter of 2014.
D'Esposito also revealed one of their already strong female heroes, Hayley Atwell's Peggy Carter, would certainly return.
D'Esposito's first quote comes from a discussion with Coming Soon:
There's obviously a drumbeat that is banging louder and louder that we want a female lead superhero...[W]e have strong female characters in our films from Black Widow to Pepper Potts to Peggy Carter and you never know. Maybe there's an offshoot film with one of them. Or Captain Marvel, you know?
A few months back, the Hollywood Reporter mentioned there was a Captain Marvel/Ms. Marvel script in the works. That, along with the above quote, was the seed of the conversation Katee Sackhoff had on the Schmoes Know podcast (via Bleeding Cool). The exact moment is around 33 minutes, 50 seconds. Sackhoff was told about the above declaration and then asked if she's heard anything from Disney or Marvel:
Um... There's been some stuff going on. Um... there's been a lot of checking of availability... I don't quite know exactly... I don't know... there's been a lot of questions about the first quarter of next year...
In another interview, D'Espositio was quick to mention Marvel currently has five films in the works and is concentrating primarily on those. So if Sackhoff was to potentially play Captain Marvel, she wouldn't be needed for early 2014. That is, however, when Avengers: Age of Ultron shoots. So maybe she'd somehow cameo in that. Or, maybe, Elizabeth Olsen isn't as set to play the Scarlet Witch as we'd thought. Another option is that Sackhoff's talks happened before Olsen was cast and she just doesn't know about it yet.
On a related note, D'Espositio told ScreenCrush the Iron Man 3 Blu-ray extra Agent Carter, starring Hayley Atwell, would not be the last time we see the character. "We know this isn't the last Peggy Carter story. We want to tell more because she's so good," he said. Is he referring to Captain America: The Winter Soldier or something more?
Lots and lots to discuss here but let's start with this. Who would be the ideal female character to lead a Marvel Cinematic Universe film? And second, would Sackhoff be good to play her? Also, where could they bring back Peggy Carter?