'Tomorrowland' Set Reveals Walt Disney Characters And Attractions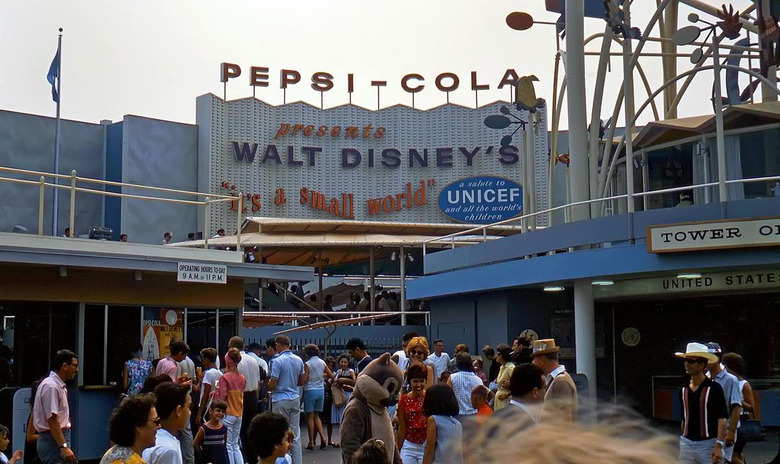 The public's understanding of Brad Bird's Tomorrowland has been like its very own theme park ride. First we though it was literally about the Tomorrowland section of Disneyland. Then we heard it had something to do with a 1952 mystery box. Next a more authentic plot description was revealed, and now all of those possibilities are beginning to blend.
Bird is currently in Vancouver, BC shooting the December 2014 release and set photos from the production have begun to leak. Among them, Hugh Laurie as a mysterious doctor and, most intriguing, images of Walt Disney's "It's A Small World" ride and costumed characters from Alice in Wonderland and the Three Little Pigs. We explore how that all fits in below.
The image above is actually from the 1964 World's Fair via Gorillas Don't Blog (More on that below). YVR Shoots via JoBlo posted the aforementioned photos of Disney's recreation of the famous location which gives us more clues about how the Tomorrowland movie connects to real life events.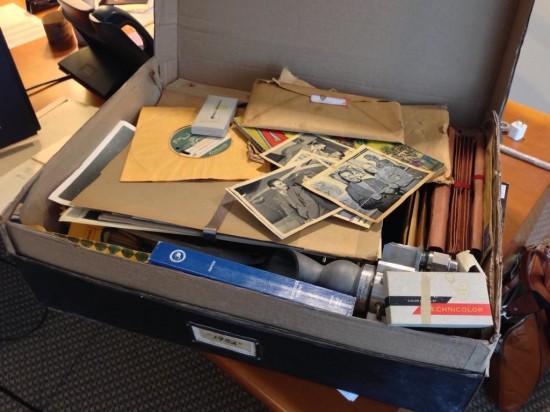 When Bird and co-screenwriter Damon Lindelof came to the D23 Expo to present the mysterious 1952 box that informs the film, there were obvious suggestions Walt Disney and his creations would be part of the movie. There were also hints that the leaked plot description from several months back was spot on and Disney himself was not going to be part of the equation.
Those set photos change that complete. Walt Disney is in Tomorrowland. Maybe not physically, but his persona and ideas for sure. Think about that as you read at the official plot description:
Bound by a shared destiny, a bright, optimistic teen bursting with scientific curiosity and a former boy-genius inventor jaded by disillusionment embark on a danger-filled mission to unearth the secrets of an enigmatic place somewhere in time and space that exists in their collective memory as "Tomorrowland."
So how do Disney attractions like "It's A Small World" or characters like the Rabbit from Alice in Wonderland and the Big Bad Wolf from Three Little Pigs fit in? First of all, it's not at Disneyland. Disney had a presence at the World's Fair in 1964 which has been part of the rumored plot for some time. Plus, as you can see in the image above from the actual World's Fair, characters from Disney cartoons were on hand.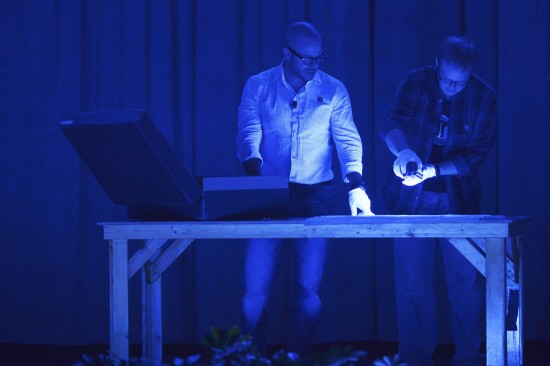 The important clue comes from the 1952 box itself. In it there's a big section talking about "It's A Small World" from the 1964 World's Fair complete with blueprints revealing a secret room built below that attraction. So does Tomorowland have a scene where, at the 1964 World's Fair, the characters go into "It's A Small World" and find a secret room below it, possibly leading to another dimension? It seems like a strong possibility.
Even if that doesn't happen, the mystery is still great, would you agree?
Tomorrowland, starring George Clooney, Hugh Laurie, Britt Robertson, Raffey Cassidy and Thomas Robinson, will be released December 12, 2014.