VOTD: David Cronenberg Advertises POD, The Realization Of His Technological Dreams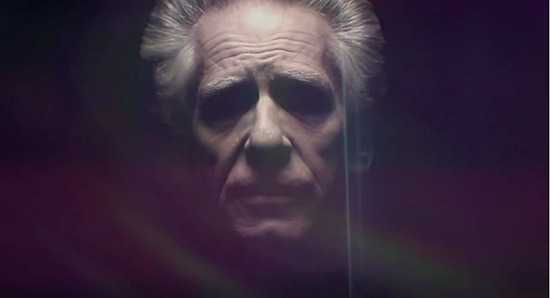 Some of David Cronenberg's films are scarily prescient. The pictures he made in the late '70s and early '80s feature concepts that seemed outlandish at the time, but have been incorporated into current technology. In exploring how humanity might live and evolve with technology, Cronenberg turned into a legitimately accurate futurist, and his pointed fictions influenced those who created legitimate tech.
But now, thanks to a company called Body/Mind/Change there's POD (Personal On Demand), a tech which is weirdly like the gaming systems Cronenberg conceived for eXistenZ. The director himself anchors an ad for POD, which seems like the sort of thing that has already been the subject of his camera. It's like Apple's "
Sadly, this isn't real tech: it's a multimedia art thing. (Or a viral video, har!, as one friend joked.) A press release (via io9) explains how this fits into the career retrospective in place now at the Bell Lightbox in Toronto:
Enabling participants to experience what it is like to live inside a David Cronenberg film, TIFF and the Canadian Film Centre's Media Lab (CFC Media Lab) have co-produced BODY/MIND/CHANGE, an elaborate multi-media production with creative direction by Lance Weiler starring David Cronenberg that presents the plausible science fiction found in his work as scientific fact.
Participants can sign up now at www.bodymindchange.ca where they can register to be one of the first to receive the next generation bio-tech recommendation engine, called Personal-On-Demand (POD).
In Body/Mind/Change, Cronenberg partners with BMC Labs, a fictional biotech firm, to develop biotech enhancement implants inspired by the intellectual property found in his films, such as Scanners, Videodrome and eXistenZ. Cronenberg is the first participant in the project. At launch on October 25, registered participants will be guided through an episodic interactive narrative that functions as a simulator for training their PODs. Completing this three-part experience will guarantee them a unique POD generated from their behaviour during the simulations. Their POD will be available for pick-up at the close of the David Cronenberg: Evolution exhibition in January 2014 at the BMC Labs installation, located in the CIBC Canadian Film Gallery on the 4th floor of the TIFF Bell Lightbox.