'Downton Abbey' Season 4 Trailer: Hugs, Kisses, And A Whole Lot Of Crying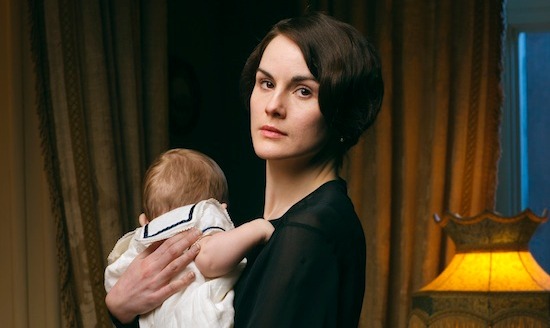 Tragedy hit the Crawley family in a big way during the last season of Downton Abbey, but life at the manor goes on — as the Dowager Countess (Maggie Smith) helpfully reminds Lady Mary (Michelle Dockery) in the first trailer from Season 4. Based on the video, this life involves lots of hugging, kissing, and casting of meaningful glances, plus a whole lot of crying.
Additionally, there are some major changes coming to Downton, such as the addition of the show's first black cast member (Gary Carr) and a trio of handsome suitors for Lady Mary (Tom Cullen, Julian Ovenden, and Brendan Patricks). Watch the new trailer after the jump; some Season 3 spoilers follow.
Downton Abbey lost some important cast members last season, but the show's spent the interim loading up on new faces to delight, torment, and/or scandalize the Crawleys.
That includes Carr as jazz singer Jack Ross, who seems to attract Rose's attentions; Harriett Walters as a friend of the Dowager Countess; Nigel Harman as a visiting valet. Paul Giamatti also has a role as Cora's playboy brother, though sadly he doesn't make an appearance in the trailer.
However, the main plotline of Season 4 will center on Lady Mary's love life. Though she's very much in mourning, there are already several men eager to  take Matthew's place in her arms, namely Mary's childhood pal Lord Gillingham (Cullen), visiting aristocrat Charles Blake (Ovenden), and Crawley family friend Evelyn Napier (Patricks).
The first two are new characters, but you may recall the last of those as the fellow who introduced Lady Mary to Mr. Pamuk all the way back in Season 1. Whomever Mary chooses, he'll have very big shoes to fill. Much like Lady Mary herself, Downton fans are still reeling over Matthew's sudden death last year.
Downton Abbey's fourth season kicks off this month on ITV in the U.K. American fans will have to wait until January 5, when the show returns to PBS.