'Neighbors' Red-Band Trailer: Seth Rogen And Zac Efron Face Off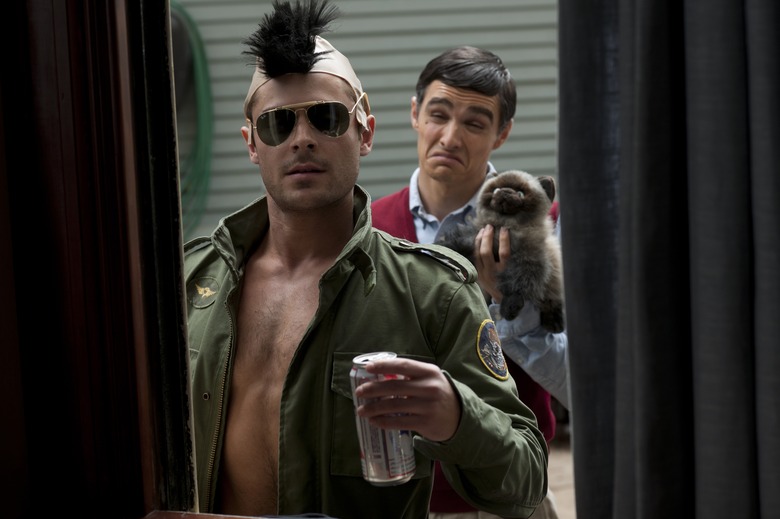 With films like Knocked Up and Pineapple Express, Seth Rogen's early film career was built on playing overgrown man-children. But he's steadily progressed into more adult roles since then, and now in the Nick Stoller-directed Neighbors, he's the out-of-touch grown-up facing off against a younger, more immature threat.
In the film, Rogen and Rose Byrne play new parents happily settling into a comfortable new neighborhood. Then a rowdy frat (led by Zac Efron) moves in next door, and the tension between the two houses escalates into out-and-out war. Watch the first red-band trailer and check out some high-res stills after the jump.
The combination of Efron, Rogen, Byrne, and Stoller sounds promising on paper, and the trailer mostly delivers. A particular highlight is Efron's impression of Taxi Driver De Niro, with Dave Franco's Meet the Parents De Niro lurking in the background. The High School Musical alum seemed like an unexpected choice when he was first cast, but judging by this trailer he fits right in with this crowd.
I do question whether an airbag could really launch a fully grown man all the way into the ceiling, but that's a minor quibble. While Neighbors' most obvious influences are frat films like Animal House, there's a touch of Jackass mixed in there as well.
Neighbors opens May 9, 2014. In addition to Rogen, Byrne, and Efron, the film also features a long list of fun supporting players including Dave Franco, Christopher Mintz-Plasse, Lisa Kudrow, Jake Johnson, Ike Barinholtz, and Craig Roberts.
Seth Rogen, Zac Efron and Rose Byrne lead the cast of Neighbors, a comedy about a young couple suffering from arrested development who are forced to live next to a fraternity house after the birth of their newborn baby. Neighbors is directed by Nick Stoller (Forgetting Sarah Marshall, Get Him to the Greek).