HBO Making New 'Westworld' Series With JJ Abrams And Jonathan Nolan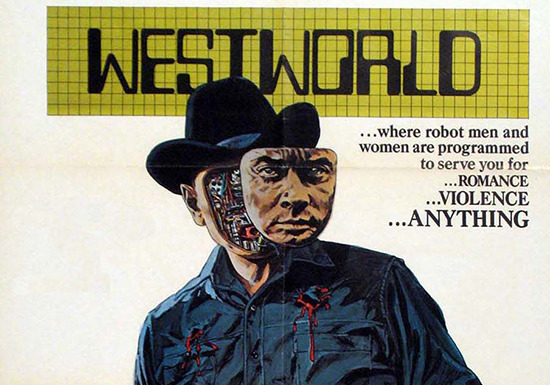 You probably know what Westworld is, because Michael Chritchton's movie cast Yul Brynner (above) as a gunslinger robot that went amok at a theme park, and the images of Brynner are among the most famous in sci-fi.
You know who J.J. Abrams is, because he's had his hands in everything from Lost to Mission: Impossible to Star Trek to Star Wars. And you know who Jonah Nolan is, because he worked on the scripts for films such as The Dark Knight, The Dark Knight Rises, and Interstellar, and created the show Person of Interest.
Now they're all coming together (with producer Jerry Weintraub, who produced, among many other films, the three Steven Soderbergh Ocean's movies, in which he also cameoed) to make a new Westworld for HBO.
Deadline has the deal announcement, and also an interesting description of the show:
...a dark odyssey about the dawn of artificial consciousness and the future of sin.
Nolan will direct the pilot, which he scripted with Lisa Joy (Burn Notice). The site says that HBO's commitment to the series is among the network's biggest, but doesn't offer details to substantiate or explain why.
There has been a Westworld show before, called Beyond Westworld. The short-lived series was meant to expand upon the original film and its sequel Futureworld, but only a few episodes were ever aired.
The idea of HBO making a new version is tantalizing. HBO is certainly the place for a deeply character-driven televised exploration of AI, its development and ramifications. The original Westworld concept, combined with the examination of "the future of sin," could be something that stands perfectly alongside Game of Thrones as smart adult entertainment. As frustrating as the creatively limited idea of mining old sci-fi for remakes can be, there's a lot of potential here.
Here's a trailer for the original film.