VOTD: 'The Most Insane Amusement Park Ever,' Documentary On Action Park In Vernon, NJ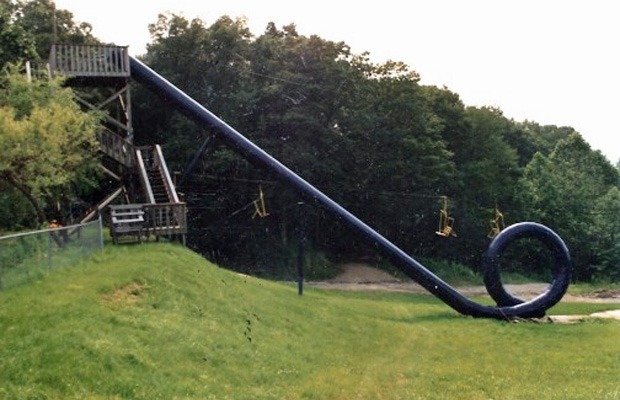 Growing up in the Tri-State area during the '80s and '90s, you had two real options if you wanted to head to a big theme park. Drive a few hours to Six Flags, or go a few minutes to the border of New Jersey and New York. There is located the small town of Vernon, NJ, which housed the insane and mythical Action Park.
I grew up about 30 minutes from Vernon so, every few weeks over the summer, we'd hop in the car and head to Action Park. There we could be shot out of a waterslide like a cannonball, race down an almost 80-degree angled slide, or swing on a rope in front of dozens of people. But walking around the park, you always had a sense of dread. Maybe it was because of the kids crying having burned themselves on the Alpine Slide. Maybe it was the kid coughing up water having almost drowned in the deep end of the massive wave pool. Or maybe it was the whispers about the that black slide with the cobwebs on it...and an ominous loop.
Mashable has posted a two part documentary on Action Park appropriated titled The Most Insane Amusement Park Ever. For anyone who'd ever went to the park as a child, this is a great trip down memory lane. If you never had the privilege, you almost won't believe this place existed.
Congrats to Daily Motion and Seth Porges on this master document of New Jersey history, and thanks to Mashable for the links. Here's part one and two.
Part two is not embeddable, but you can watch it here.
And if you head to this page, you can see the epilogue about a place called Mountain Creek, which now stands where the mighty Action Park once was.
I probably went to Action Park 10 times when I was a kid, and maybe another few times to Mountain Creek after it changed over. The difference was considerable and the above documentary really does capture it. Action Park was a place where a boy became a man. Where he could dive into a deep, dark tube a frightened young person and emerge on the other side, full of energy and excitement. Was it safe? No. Did everyone know it? Yes. But I'll never forget my times there.