'World War Z' And 'Star Trek Into Darkness' Double Feature Hits Theaters Friday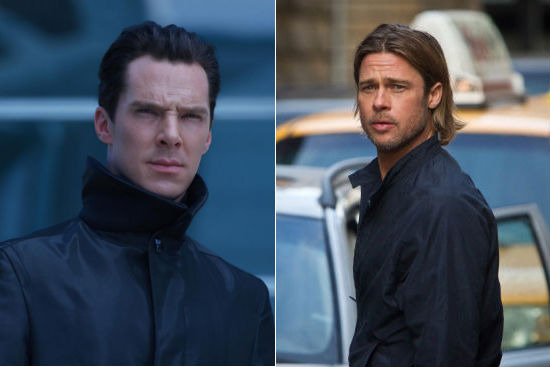 Fans waiting to see either World War Z or Star Trek Into Darkness before the summer movie season ends are about to get another chance. Hoping to fill a pretty big hole in the release schedule on the summer's final weekend, Paramount is presenting a double feature of their two summer hits for the price of one ticket. The run starts Friday August 26 and ends Thursday September 5.
Tickets are now on sale at www.ultimatedoublefeature.com and participating theaters include AMC, Regal and others. Here's the full press release:
Paramount Pictures, a division of Viacom, Inc., is giving moviegoers a chance to see two of its summer blockbuster films, "STAR TREK INTO DARKNESS" and "WORLD WAR Z," with a special double feature at select AMC Theatres, Carmike Cinemas, Marcus Theatres, Regal Cinemas and other participating theaters nationwide in RealD 3D and 2D.
Beginning Friday, August 30th through Thursday September 5th, the double feature allows fans to relive the excitement of two of the summer's biggest hit films for one ticket price. Tickets are on sale now at www.UltimateDoubleFeature.com, fandango.com, movietickets.com and at participating theatre box offices.
"STAR TREK INTO DARKNESS," directed by J.J. Abrams, follows the crew of The Enterprise as they are called back home to Earth in the wake of a shocking act of terror from within their own organization. In defiance of regulations and with a personal score to settle, Captain Kirk leads his crew on a manhunt to capture an unstoppable force of destruction and bring those responsible to justice. As our heroes are propelled into an epic chess game of life and death, love will be challenged, friendships will be torn apart, and sacrifices must be made for the only family Kirk has left: his crew. The film earned more than $450 million worldwide upon its release in May.
"STAR TREK INTO DARKNESS" is written by Roberto Orci & Alex Kurtzman & Damon Lindelof and directed by J.J. Abrams. Abrams is producing with Bryan Burk through Bad Robot Productions, along with Lindelof, Kurtzman and Orci. Jeffrey Chernov and Skydance Productions' David Ellison, Dana Goldberg and Paul Schwake are the executive producers.
"WORLD WAR Z," with more than $500 million at the worldwide box office to-date, is Brad Pitt's highest grossing worldwide release. The film revolves around an ex-United Nations investigator Gerry Lane (Pitt), who traverses the world in a race against time to stop a pandemic that is toppling armies and governments and threatening to decimate humanity itself. Mireille Enos and James Badge Dale also star.
Whether you've seen both, one or neither, it's hard to beat two for the price of one. Neither movie is amazing, but both are solid and likely better than the One Direction movie or Getaway, the weekend's two biggest releases. Plus, it's your shot at a double dose of Damon Lindelof!
Seriously though, while this is a solid deal and there's little competition at the box office this week, the fact World War Z is sitting at about $198 million domestic is probably the reason for the double feature. It's all be sure to cross $200 million, which would be a major milestone for the zombie film that started the summer with such bad buzz.
Do you think you'll go check this out?