Exclusive: The IMAX FanFix Poster For 'Riddick' By Alex Fuentes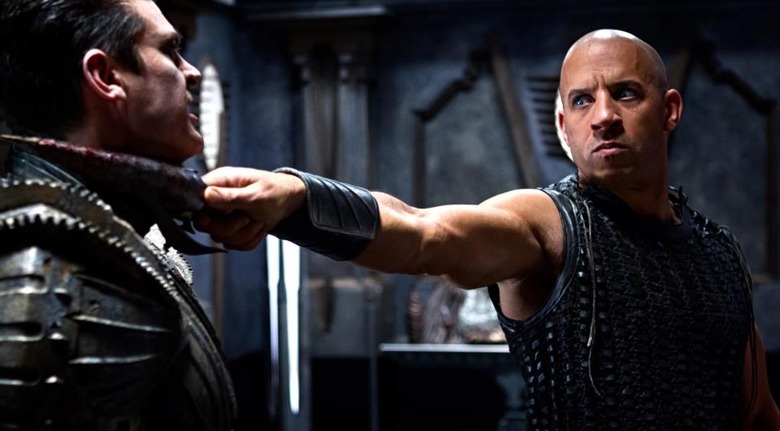 Next week, Vin Diesel is back as everyone's favorite night-visioned, ass-kicking sci-fi star Riddick. It's a sequel almost 10 years in the making that was willed to the big screen by the star, its director David Twohy, and the fans.
A movie like that deserves to be seen in the IMAX format. Universal gives fans that option come September 6 when Riddick opens everywhere. These days an IMAX debut means an exclusive poster for fans who attend the first showings and we're proud to exclusively debut the FanFix poster for Riddick. It's by artist Alex Fuentes and will available at 8 p.m. IMAX screenings on September 5. Check it out below.
Here's the exclusive IMAX FanFix poster for Riddick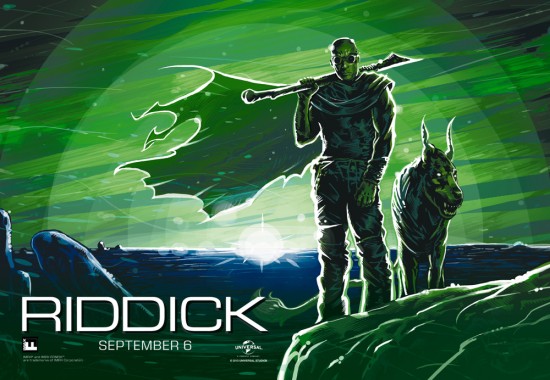 For a full list of theaters where the poster will be available, for free, visit this website.
Here's the plot description of Riddick:
Riddick, the latest chapter of the groundbreaking saga that began with 2000's hit sci-fi film Pitch Black and 2004's The Chronicles of Riddick reunites writer/director David Twohy (A Perfect Getaway, The Fugitive) and star Vin Diesel (the Fast and Furious franchise, xXx). Diesel reprises his role as the antihero Riddick, a dangerous, escaped convict wanted by every bounty hunter in the known galaxy.
The infamous Riddick has been left for dead on a sun-scorched planet that appears to be lifeless. Soon, however, he finds himself fighting for survival against alien predators more lethal than any human he's encountered. The only way off is for Riddick to activate an emergency beacon and alert mercenaries who rapidly descend to the planet in search of their bounty.
The first ship to arrive carries a new breed of merc, more lethal and violent, while the second is captained by a man whose pursuit of Riddick is more personal. With time running out and a storm on the horizon that no one could survive, his hunters won't leave the planet without Riddick's head as their trophy.