Ethan Hawke Says Richard Linklater's "Truly Original" Film 'Boyhood' To Play In 2014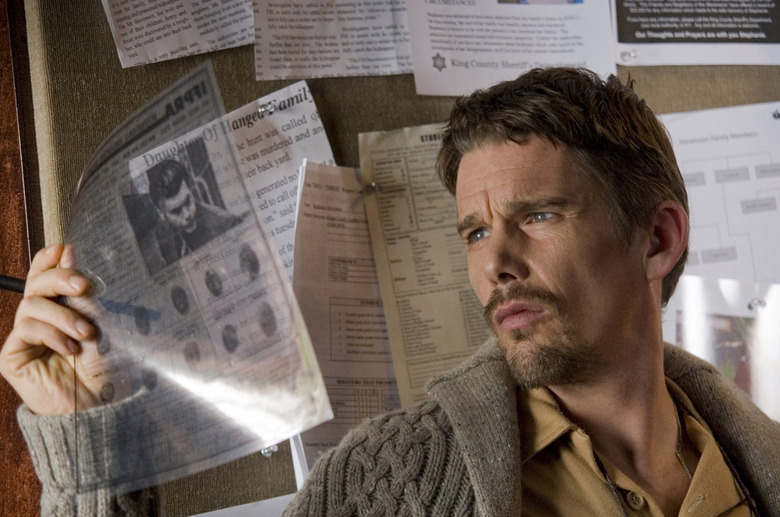 There are long-gestating films that take forever to make due to complications and circumstance. Then there's the rare one that takes years by design.
Richard Linklater has been making Boyhood since 2002. The film isn't delayed or in trouble or anything like that. Boyhood is designed to chronicle the growth of a boy from age 6 to his last year of high school at 17 or 18. Ellar Salmon plays the boy through the entire film, because Linklater has shot the movie essentially in sequence, creating new scenes each year since '02 as Salmon grew.Ethan Hawke plays the boy's stepfather and Patricia Arquette his mother. There are similar projects to this one — Paul Almond and Michael Apted's Up series qualifies — but no dramatic narrative quite like Boyhood. We've known about the film for a long time but didn't know when we'd be able to see it. Now, Hawke says it should hit next year, in 2014.
The actor told The Huffington Post the film is "the most truly original, revolutionary thing I've ever been a part of." Hawke just shot his last part for the film, and says Linklater is shooting one more bit in November. Then "it will be at Sundance or Cannes or Berlin or something next year."
Hawke went on to explain a lot more about the movie:
this is about growing up and the little moments that define our identity that aren't about your bar mitzvah or your first time you had sex. There are these signposts that aresupposed to be meaningful — prom, or something — that aren't really meaningful. The movie is going to be — I don't know what people are going to make out of it — but I do know it's the damned most original thing I've ever been a part of.
In 2002 when it started, the parents are going though a divorce and it opens with the mom — and you don't see me. And then I come for a weekend visit the next year. The first scene I did was with a 7-year-old boy ... and I take this 7-year-old boy bowling — and I'm chain smoking in a bowling alley, which was legal then. And I finished yesterday and I'm 42 years old — I was 33 when I did my first scene — he's 19. He's a grown man! He's got crazy ear rings and he's taller than me and he's intimidating. Just acting in the movie felt like nothing I've ever done.
Read the whole HuffPo interview with the actor, as there's other great stuff in there, and some talk that helps ground the actor's vision of what things that are supposed to be meaningful but aren't — focus on what he says about Explorers.