'Simpsons' Expansion Now Complete At Universal Studios Orlando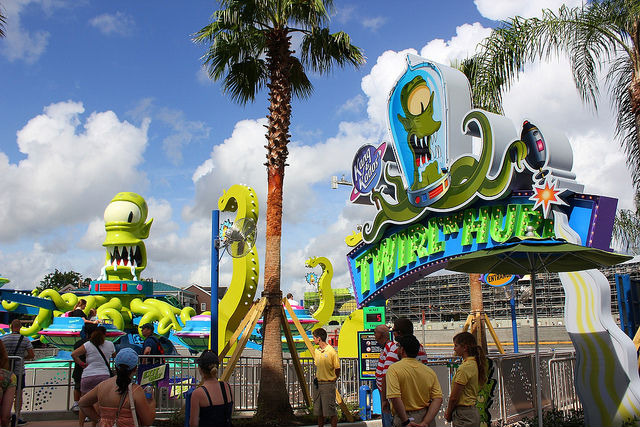 One of the biggest mysteries in the long running history of The Simpsons is the location of Springfield, the characters' hometown. While the show's creators have given hints over the years, it's safe to say that, as of last week, at least one version of Springfield is in Orlando, Florida.
For the past few months, Universal Studios Orlando has been slowly opening a whole new section to their park. (Yes, this in addition to Islands of Adventure and World of Harry Potter.) The new area is designed to look as close to Springfield as possible, including stores, locations and characters from the iconic hometown of The Simpsons. Last week, that expansion was finally completed as its the flagship ride, Kang & Kodos' Twirl 'n' Hurl, opened its gates.
Below, see some photos and videos of not only that ride, but the entire Springfield, including Moe's Tavern, the Duff Brewery, Lard Lad Donuts and much more.
Inside the Magic has been covering the hell out of the Simpsons expansion. Here are two of their latest videos, including a ride video for the Twirl n Hurl as well as a quick walk through of the entire area.
And here are just a few of the dozens of great photos they have on the site. Visit this link for all their coverage.