Kevin Feige Reveals 'Guardians Of The Galaxy's' Timeline And Primary Villain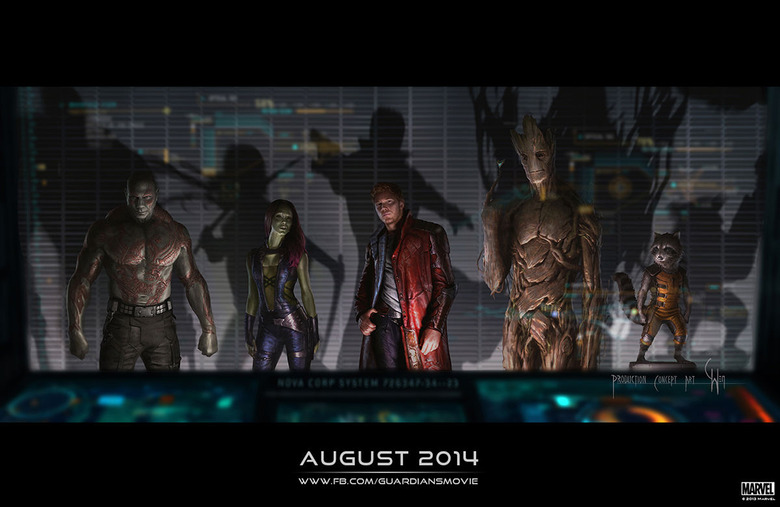 During Phase 2 of the Marvel Cinematic Universe, Iron Man, Black Widow and Captain America are dealing with villains on Earth, Thor is back on Asgard and we assume Hulk and Hawkeye are around somewhere. But James Gunn's Guardians of the Galaxy also falls in the pre-Avengers: Age of Ultron release window. Just how connected its story is to The Avengers will be a big topic of discussion all the way up to August 1, 2014.
Based on comments and the Comic-Con panel, the prevailing belief is that Guardians (obviously) takes place in the same universe, but might not intersect with the Avengers gang before they tangle with Ultron. Now Marvel President Kevin Feige gives us a bit more information on that, revealing exactly when Guardians of the Galaxy takes place as well as who the main bad guy is.
Marvel is a big part of the latest issue of Empire Magazine and that's where these quotes are from. Thanks to Comic Book Movie for the heads up.
First up, Feige was asked if Guardians takes place at the same time as the other Phase Two films:
The general answer is yes. It's not exactly revealed what year or month it is in relation to the other Phase Two films. But yes, it's the same time.
So how connected is it?
Certainly more than the others. We've already said that Thanos plays a part in it and is a character in it. That in and of itself should tell you it's connected to the other worlds.
I'm not sure he actually meant to say "more than the others" here. Since the others take place on Earth, and their characters are in Age of Ultron, it seems like those are probably connected "more." But who knows how Feige's mind works. He could have meant  "not more," or perhaps he just dropped a huge hint on us. Anyway, he mentioned Thanos, and Empire followed up on that. Is he the main bad guy?
Ronan The Accuser is very much the main bad guy. And Thanos is lurking above it all. You will learn more about Thanos in Guardians, for sure. Certainly you'll get more than the one turn around and smirk. You'll get much more than that!
So Lee Pace's character gets the top spot over Benicio Del Toro's.
Everything Feige is saying here pretty much lines up with our educated assumptions. Guardians of the Galaxy will be set up a slew of new characters for the MCU, tie in broadly to what's happening on Earth and Asgard and then end in a place where an eventual sequel can start to push the Guardians toward the Avengers with Thanos at the controls. What do you think?