'Divergent' Reveals Action-Packed, Extremely Brief First Teaser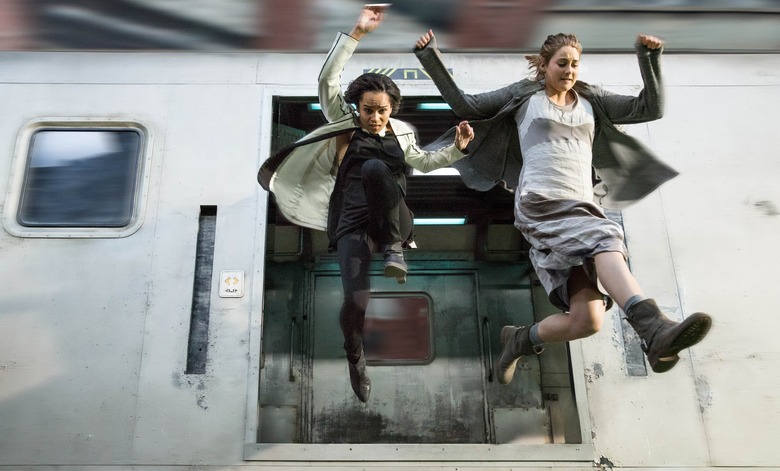 It's probably not entirely fair to keep comparing Divergent to The Hunger Games. But given that they're both female-led dystopian YA action franchises, and given that Divergent is very obviously aiming to be the successor to the Hunger Games throne, it's pretty hard not to make the comparison.
Not that they're exactly the same. Directed by Neil Burger and based on the book by Veronica Roth, Divergent takes place in a futuristic Chicago. Therein, each citizen, upon reaching adulthood, must ally him- or herself with one of five factions. Shailene Woodley leads the cast as Tris, who leaves behind Abnegation, where she was raised, to become one of the thrill-seeking Dauntless.
Hopefully the differences between the two series will become clearer as we see more from the film. Like this first bit of footage, in the form of a very brief teaser. Check out the video after the jump.
The video doesn't explain much about who Tris is or what her world is like, choosing instead to focus on the action. It seems like the smart move. The dialogue is pretty generic ("You're different," "If you want to survive follow me") but the fight scenes look fun. Part of Tris' training to join the Dauntless involves simulations, so we could be in for some eye-popping, logic-defying visuals.
Divergent premieres March 21, 2014. Theo James plays the requisite brooding love interest. Jai Courtney, Miles Teller, Zoe Kravitz, Maggie Q, Mekhi Pfeiffer, and Kate Winslet also star.
Based on Veronica Roth's #1 New York Times best-selling novel, DIVERGENT is a gripping action thriller set in a futuristic world where society has been divided into five factions. As each person approaches adulthood, he or she must choose a faction and commit to it for the rest of their life. Tris Prior (Shailene Woodley) chooses Dauntless—the daring risk-takers who pursue bravery above all else. During the Dauntless initiation, Tris completes death-defying stunts and faces her inmost fears in spectacular simulations. When she discovers she is a Divergent, someone who will never be able to fit into just one faction, she is warned that she must conceal this secret or risk her life. As Tris uncovers a looming war which threatens her family and the life of the mysterious Dauntless leader whom she has come to love, Tris must face her greatest test yet—deciding whether revealing she is a Divergent will save her world—or destroy it.