Ricky Gervais Wants To Make A Movie About 'The Office' Character David Brent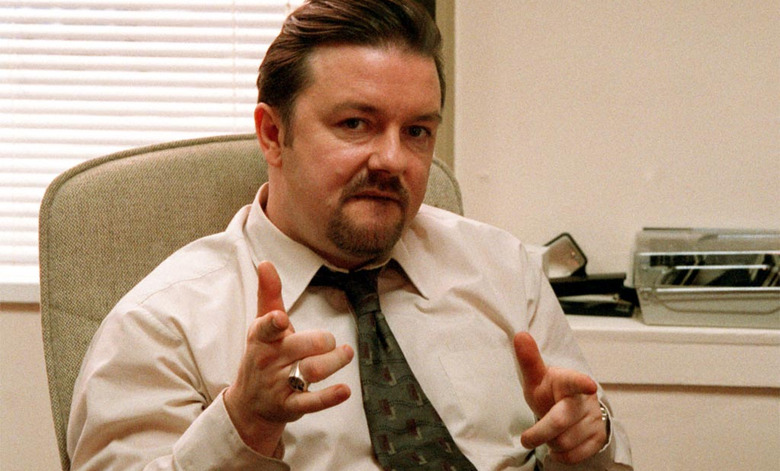 There are some major differences between the U.K. and U.S. TV industries. Like the fact that they call seasons "series" across the pond, or that said seasons / series tend to run fewer than ten episodes. But the desire to resurrect dead shows as movie sequels is apparently universal.
Ricky Gervais recently revived his The Office character David Brent for a web series titled Learn Guitar With David Brent. Now he's revealed that he has still other plans for the character, including, he hopes, a feature film. Hit the jump to find out what Gervais has in store.
According to THR, Gervais "hopes [the web series] will be the basis for a movie about Brent trying to make it in the music industry." Additionally, Gervais wants to sign a record deal for Brent. In fact, Gervais-as-Brent is already rehearsing for charity shows later this year.
The move doesn't come completely out of nowhere. Brent's desire to entertain was well established in the series, and The Office Revisited even yielded a music video for a (deliberately) cringeworthy track called "Equality Street." Gervais himself also had an early career in music, starting with the New Wave duo Seona Dancing.
Whether a movie sequel is a good idea, though, is another question. Brent's rock star delusions are amusing in short bursts, but that joke may or may not be enough to sustain a feature-length film. And I'll let more devoted Office fans than myself debate whether they even want to see Brent re-enter the spotlight.
Regardless of what happens with Brent's music career, Gervais' TV and movie career continues to thrive. His new dramedy series Derek hits Netflix next month, and he has a major role in the upcoming Disney sequel Muppets Most Wanted.
Here's the video for Gervais-as-Brent's "Equality Street."
And because this seems like as good an excuse as any, here's a clip of Gervais rocking out in the '80s.