TV Bits: 'Community', 'Game Of Thrones', 'Houdini', 'El Mariachi'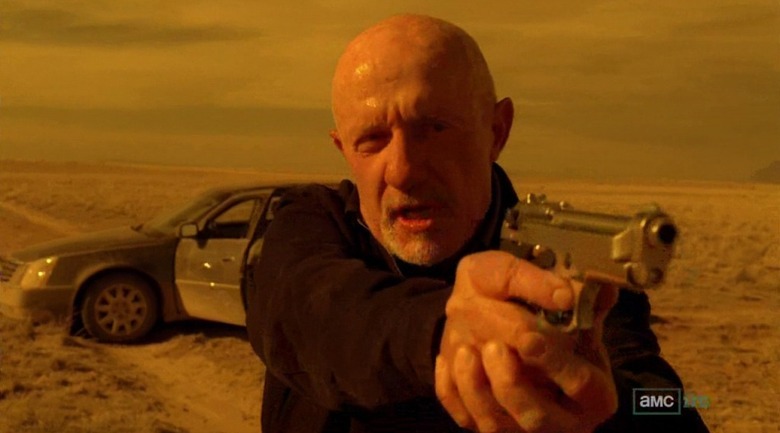 Following in the footsteps of his old boss Gus, Mike will drop by Greendale in the next season of Community. Also after the jump:
Game of Thrones recasts one of its roles for Season 4
Lee Daniels is circling a Sammy Davis Jr. movie for HBO
History greenlights Houdini mini with Adrien Brody
FX is developing a Louie-style comedy for DL Hughley
Sony is adapting Robert Rodriguez's El Mariachi for TV
See trailers for Yahoo series from Ed Helms, Jack Black, and more
Banks has signed on for an eleven-episode arc in the upcoming season as Pat Nichols, described as "an intense criminology professor with a mysterious background in military and police work." So not all that different from a certain fixer, really. Banks will first appear in the second episode of Season 5, when Annie (Alison Brie) signs up for his course. [EW]
One of Game of Thrones' high profile new hires may not be for a new character at all. An unconfirmed report indicates that Callum Wharry, who plays Prince Tommen Baratheon, has been replaced by the slightly older Dean-Charles Chapman for Season 4.
Oddly enough, Chapman has actually appeared on the series before as Martyn Lannister in the episodes "Kissed By Fire" and "Walk of Punishment." Hmm. Coincidence or clue? Game of Thrones returns in spring 2014. [Winter Is Coming via Screen Crush]
Lee Daniels could become the latest high-profile filmmaker to drop by HBO. The director of The Butler (or technically, Lee Daniels' The Butler), is reportedly circling an HBO biopic film about Sammy Davis Jr.
HBO has previously touched upon his story in the 1998 movie The Rat Pack, which starred Cheadle as the iconic entertainer. However, Butler's movie, should it get made, will be the first high-profile biopic focused specifically on Davis. [Showbiz 411]
Adrien Brody will get a chance to work his magic on TV. History Channel has greenlit the four-hour miniseries Houdini, starring Brody in the title role. Kristen Connolly co-stars as his wife.
The series, which entered development several months ago, will follow the master illusionist's journey from humble beginnings to worldwide fame. Shooting will begin this fall, likely for a 2014 premiere. [Deadline]
Louie's proved a big success for FX, and now the network wants to try a similar model with a different stand-up comedian. The cable channel has put into development an autobiographical comedy about D.L. Hughley. He will star and executive produce, as well as co-write the script.
The show will depict a fictionalized version of Hughley's life as "an unapologetically honest family man and radio host." The real-life Hughley has two daughters and a son with his wife of 25 years, and has been working in radio for the past few years. Earlier this month, he closed a deal to host a nationally a syndicated afternoon drive show. [Deadline]
Robert Rodriguez and Antonio Banderas have yet to make any real progress on that possible El Mariachi movie sequel, but in the meantime the character will come back to life on TV. Sony Pictures and Teleset have announced that they will adapt the 1992 film for the Latin American market.
Sony TV will initially produce 70 episodes of the hourlong drama, to be shot in Mexico. Iván Arana will lead as Martin Aguirre, a musician pursued by drug cartels. Marta Higareda and Julio Bracho will also star. [Deadline]
After finding success with the satirical series Burning Love, Yahoo! is venturing further into the comedy realm with five new series from names like Jack Black, Ed Helms, Cheryl Hines, and John Stamos. Check out the first trailers below.
Muppets lovers may be intrigued by The Fuzz, about a puppet cop named Herbie who's underestimated by his human colleagues. When a violent crime wave hits Puppet Town, however, Herbie must team with them to take down puppet drug dealer Rainbow Brown.
Executive produced by Jack Black, Ghost Ghirls follows two "terribly ditsy and painfully unprofessional" ghost hunters played by Amanda Lund and Maria Blasucci.
In Losing It With John Stamos, the former Full House star / current Oikos Yogurt pitchman interviews famous people including Michael Ian Black, Adam Pally, Casey Wilson, Matt Stone, Alan Cumming, Olivia Munn, and Bob Saget about the first time they had sex.
The Ed Helms-created Tiny Commando features Zachary Levi as a Navy SEAL who was shrunk in an experiment gone bad. He's just as tough, smart, and smooth as ever, but now he's just four inches tall. Helms, Gillian Jacobs, and Rob Corddry also star.
Finally, comedic actresses Cheryl Hines and Rachael Harris play ridiculous versions of themselves in We Need Help. To make their lives easier, they hire a struggling young actor named Max as their shared personal assistant.
All five shows debut on Yahoo! September 9.