Sequel Bits: 'Dumb And Dumber To', 'Riddick', 'The Conjuring 2', 'Cloudy 2'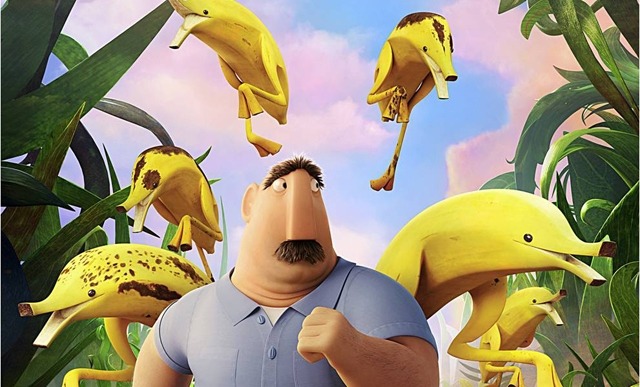 The food puns keep on coming in a new batch of posters from Cloudy With a Chance of Meatballs 2. Also after the jump:
Director Scott Derrickson will return for Sinister 2 in some capacity
Keri Russell offers more Dawn of the Planet of the Apes plot details
The Conjuring 2 won't be about Amityville, unless Patrick Wilson is lying
Vin Diesel and David Twohy consider where the Riddick series will go next
The Farrelly Bros. announce a contest for a Dumb and Dumber To role
How to Train Your Dragon 2 flies up one week on Fox's release calendar
Food puns abound on new Cloudy With a Chance of Meatballs 2 posters
Well, he's writing it and he's gonna come back in some capacity. He's definitely gonna produce it and whether or not he directs it or not, I don't know.
Though he and Derrickson are both very busy, Blum hopes to get Sinister 2 moving sooner rather than later. "I want to try and start it in the next six months or so," he said. "I'm not sure that's gonna happen, but those are our big plans." [Shock Till You Drop]
The basic plot of Dawn of the Planet of the Apes has been floating around for some time now, but star Keri Russell has filled in a few more of the details:
I can tell you that it's 10 years after 'Rise' and basically, there's been this virus outbreak and there's very little of civilization alive. The apes that are left don't think there are any humans left and the humans left don't think there are any apes left. Through a set of circumstances, they meet up and it's really about can the two communities exist together.
Russell also gave up some more info on her own character. "I play one of the existing humans in the colony and I have some medical skills, although it's not like I'm a big fancy doctor," she explained. "I'm sort of Jason Clarke's girlfriend." Dawn of the Planet of the Apes premieres July 18, 2014. [I Am Rogue via Comic Book Movie]
Barely a month after The Conjuring hit theaters, there are already rumors flying around about the plot of the sequel. In a recent interview, star Patrick Wilson confirmed that the specific incident being talked about has indeed been considered.
Chad and Carey, the writers, they sort of let this cat out of the bag, so I'm just confirming their gossip, which is they were interested in a story in London, overseas, of some sisters that were possessed. I don't know, I haven't seen the script.
That's just one possible plotline, as nothing's been locked in yet, but Wilson has a pretty good idea of which story they won't do. "I can imagine it won't be Amityville," he said. "Or maybe it will be Amityville and I'm completely lying." [Shock Till You Drop]
Riddick has hopped from planet to planet over the past three films, Pitch Black, Chronicles of Riddick, and the upcoming Riddick. So where will he go next? Star Vin Diesel has some ideas for future films:
You've got to go to the Underverse. It's expected, it's something I firmly believe. You'll have to go through the Underverse to get to Furya. So, those are the two further stories that are mapped out. The Underverse is a much more costly venture. We went this direction, trying to do an R-rated movie, which is cool and even more interesting because it's so unexpected. But yes, you will be at the Underverse and you will be at Furya sooner or later.
But first, we'll see him on a desolate and dangerous planet when Riddick opens September 6. [SFX]
Nearly two decades after the original Dumb and Dumber was released, the Farrelly Brothers are gearing up for a sequel. And they're inviting one lucky fan to become a part of it.
The filmmakers have announced a contest for a walk-on role in Dumb and Dumber To, which is expected to shoot this fall. Here's how to enter:
Alright, here are the contest rules for Winning A Walk-On On Dumb & Dumber To!
First, make a Vine re-creating a scene from the original Dumb & Dumber, but put your own spin on it.
Use the hashtag #DumbTo so we can see them all. (Yeah yeah, I know what a "hashtag" is...now)
You have until September 15, 2013 to post.
After September 15, Bobby and I will pick the winner. The winner and a friend gets to be a walk-on on the film.
Good luck!
[Facebook]
The four-year gap between How to Train Your Dragon and How to Train Your Dragon 2 just got a tiny bit shorter. Fox has just bumped the release date up one week, from July 20, 2014 to July 13, 2014. The new date pits it against another highly anticipated sequel, 22 Jump Street. [Exhibitor Relations]
After introducing us to watermelophants, bananostriches, and tacodiles, Sony is serving up still more tasty wordplay with their new series of Cloudy With a Chance of Meatballs 2 character posters.
Bill Hader, Anna Faris, James Caan, Andy Samberg, Neil Patrick Harris, Benjamin Bratt, and Terry Crews lend their voices to the Cody Cameron and Kris Pearn-directed sequel. The film opens September 27, 2013. [IMP Awards]