'Seventh Son' Will Be Released By Universal, Not Warner Bros.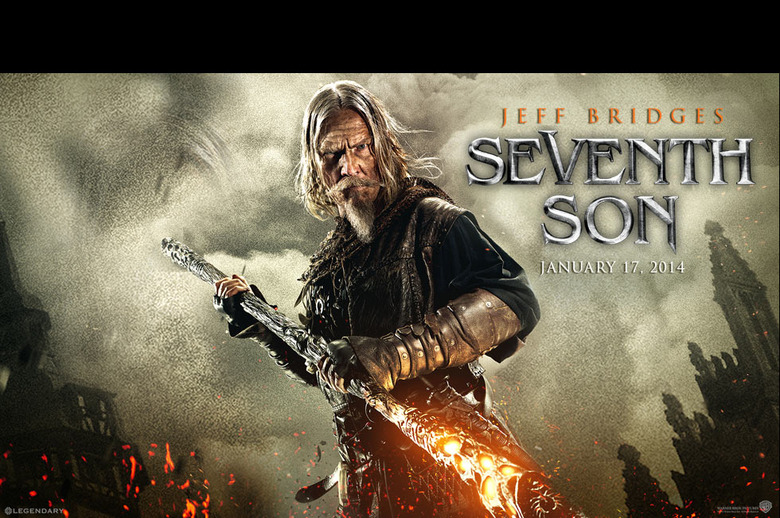 The public divorce between Legendary Pictures and Warner Bros. continues. The two companies are currently figuring out what to do with projects they're both involved in, and the latest victim is Seventh Son, the Jeff Bridges fantasy film directed by Sergey Bodrov. Co-produced by Legendary and Warner Bros., the film will now be released by Universal as part of the new deal with Legendary.
Seventh Son, which has been at Comic-Con the past two years, currently has a January 17, 2014 release date. But that was with Warner Bros. Now word is that Universal will come up with a new date and marketing strategy. Deadline broke the news of this deal, which is the latest in growing line of films moving around since the two companies parted ways. Pacific Rim and Godzilla both stayed (or will be staying) at Warner Bros., while Legendary gave up a stake in Batman vs. Superman to keep a piece of Interstellar.Seventh Son has been a film with a problems since we first heard about it. It's had juggled release dates and different titles. The latest presentation at Comic-Con didn't particularly help and Warner Bros. letting it go certainly doesn't bode well for the movie. But perhaps Universal can market it like crazy and create an audience.
Here's an official plot description:
The fantasy action adventure Seventh Son takes audiences to a time long past, where evil is about to be unleashed. Jeff Bridges stars as Master Gregory, a Falcon Knight who imprisoned the malevolently powerful witch Mother Malkin (Julianne Moore) years ago. Now escaped, she seeks vengeance, and Gregory has only until the next blood moon to train a new apprentice (Ben Barnes), the seventh son of a seventh son, to fight a dark magic unlike any other. Oscar nominee Sergei Bodrov directs an international cast that includes Alicia Vikander, Kit Harington, Olivia Williams, Antje Traue, and Djimon Hounsou.