An Uncredited Rewrite Made Hit-Girl Less Masculine For 'Kick-Ass 2'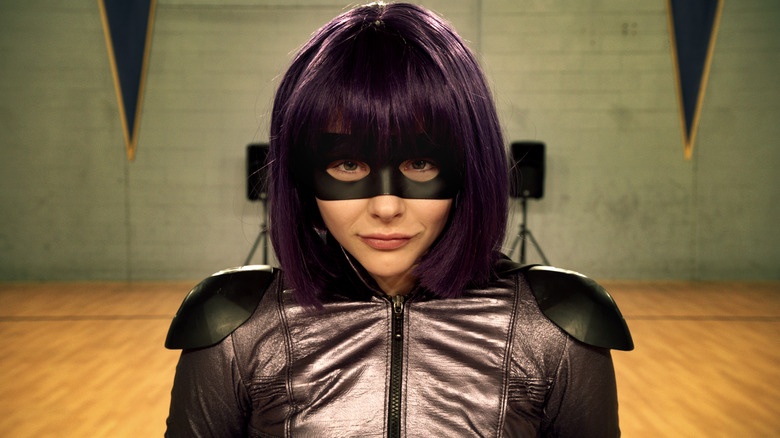 While Kick-Ass and Red Mist haven't really changed a lot between Kick-Ass and Kick-Ass 2, Hit-Girl is like a whole new person. In the first film, she's a foul-mouthed killing machine who loves nothing more than her father and justice. In Kick-Ass 2, she's forced to bury that spirit to assimilate to the social life of high school. Instead of fighting crime, she deals with sleepovers, dating, makeup and more. In the end, the film features a more feminine version of Mindy Macready.
That character change is by design. In an interview with Digital Spy, Chloë Grace Moretz revealed screenwriters Chad Gomez Creasey and Dara Resnik Creasey were brought in to specifically work on her character, making her less masculine.
Here's the interview from Digital Spy, with a nod to Bleeding Cool.
Here's the quote:
On the first draft with my character it was very male centered so what we had to do... we brought in The Creaseys who was another writing team to collaborate with Jeff and create more of a female side of the character in relation to the maternal aspect. Because you kind of have to have that female driven character, you can't have the crass eleven year old be fifteen or sixteen, it's not so cute anymore.
The Creaseys wrote the Amanda Bynes movie Sydney White, worked on the TV show Pushing Daises as well as Aaron Sorkin's Studio 60 on the Sunset Strip. They're also rumored to be working on Three Men and a Bride. But that's just credited stuff. Many, many Hollywood screenwriters make their money doing rewrites that never get credited. Sometimes, those rewrites are with one specific aim – such was the case here.
Having seen the film, this version of Mindy does balance her immature, masculine-influenced nature of the first movie with an exaggerated view of a teenage girl's life. This is explicit when, trying out for the dance team, Mindy visualizes beating up a bunch of bad guys. Director Jeff Wadlow cuts between fantasy and reality, showing Mindy as simultaneously violent and feminine. There's more too, but it would delve into spoiler stuff.
Do you think this was a good move? Are you surprised?