'Insidious: Into The Further' Maze Coming To Universal Studios Hollywood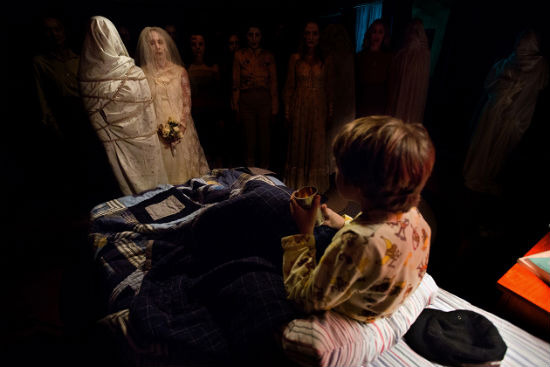 Some people are so terrified by horror movies that they can hardly even bear to watch them. And others are so delighted by them that they'd willingly walk into the creepy locales portrayed in them.
For those who fall into the latter category, Universal Studios Hollywood is building Insidious: Into the Further, a maze based on the hit thriller by James Wan. The attraction will be part of the annual Halloween Horror Nights celebration at the park. Hit the jump to learn more about what spooky highlights you can expect.
The attraction promises to take guests on a "nightmare journey" through "the world of the dead to confront the malicious souls hell-bent on bringing suffering to the living." The experience will begin outside the maze, as paranormal investigators Tucker and Specs warn guests of the evil inside.
"The Lipstick Demon, The Long-Haired Fiend and the victims he murdered – they all come together in a perfect storm within the maze," explained Wan in the statement. "In fact, I think this maze is the closest you can come to experiencing the kind of fear portrayed in our films without actually living through it yourself."
In addition to Wan, Insidious writer Leigh Whannell and producer Jason Blum are also working with Universal Studios Hollywood on the maze. Blum has some experience with this kind of thing, having helped build the Blumhouse of Horrors haunted house in LA last Halloween.
Universal Studios Hollywood's Halloween Horror Nights will also include mazes based on the Evil Dead remake, AMC's The Walking Dead, and the music of Black Sabbath. Insidious: Into the Further will be exclusive to Unviersal Studios Hollywood, but East Coast horror junkies can get their haunted house fix with the Cabin in the Woods maze announced last month.
[h/t Dread Central]