Vin Diesel Could Play Groot In 'Guardians Of The Galaxy'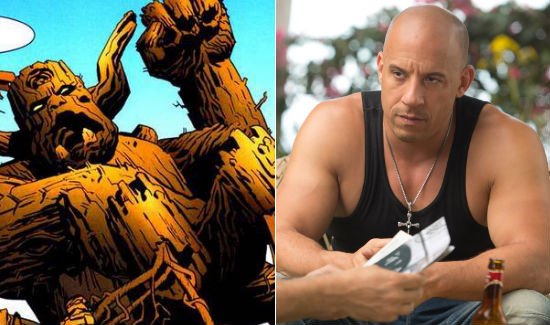 Few Facebook pages generate buzz like Vin Diesel's. All the actor has to do is change one thing on his page and his 45 million fans just go nuts. This happened recently with an image of xXx, talk of a meeting with Marvel and it happened again Sunday. Diesel posted a photo of a talking tree, suggesting he could be joining James Gunn's Guardians of the Galaxy as the voice of Groot.
That rumor circulated for a few hours until it became official. Deadline reported Diesel was, indeed, in talks to play Groot in Guardians of the Galaxy.
Diesel's Facebook post is here, the Deadline story is here.
Whether or not Diesel will actually perform motion capture for the huge, talking walking tree, or just provide his voice (which is usually just the line "I am Groot.") is still unknown. Either way, while Diesel's deep, distinct, raspy voice would certainly work, this would obviously be a bit of a disappointment to fans. When Diesel first revealed he was meeting with Marvel, speculation ran rampant he'd be playing a much bigger role. If he takes the role of Groot, that doesn't mean he can't be Vision or Thanos, but it does suggest that ship has sailed.
What do you think of Diesel as Groot in Guardians of the Galaxy? Who'll voice Rocket Raccoon?