Jane Arrives In Asgard In New 'Thor: The Dark World' Clip From D23 Expo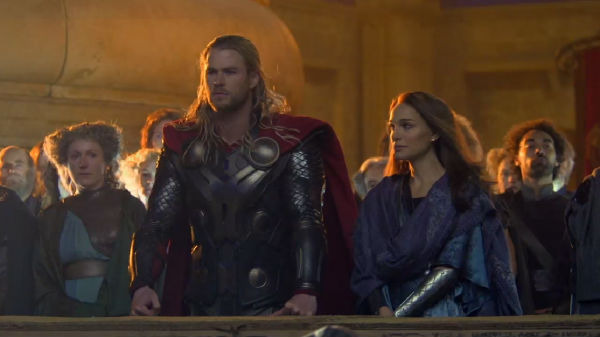 With D23 in full swing, Disney seized the opportunity to show off a new clip from Thor: The Dark World, due out in theaters this fall. Stars Tom Hiddleston, Natalie Portman, and Anthony Hopkins were on hand to present the scene, which depicts Jane's first day in Asgard. "I didn't check her passport," joked Hopkins, who plays Odin. "She's so beautiful, she belongs in Asgard."
Despite her godly good looks, however, Jane's introduction to the realm doesn't go too smoothly. Hit the jump for a description of the exclusive footage screened at D23.
Jane starts talking science with the physicians, asking if she's in a quantum generation field. After some back and forth, they establish that the field is called something different in Asgard, but that's indeed what she's in. While the doctors are unable to determine the nature of her sickness, it's clear that she's mortally ill.
Odin, meanwhile, is none too happy to see her. "You told your dad about me," Jane says to Thor. After two guards try to grab Jane, she deflects them with a surprising burst of red energy. Odin notices something in her arm, and they realize that the infection is defending her — or maybe just itself.
Peter described the look of the scene as "cool future tech meets fantasy in only the way Marvel can do it." So, as with the first film, it sounds like there's an eye-catching mix of sci-fi and fantasy in Thor: The Dark World.
Thor: The Dark World opens November 8.