Walt Disney Animation Announces 'Zootopia' For 2016; See Concept Art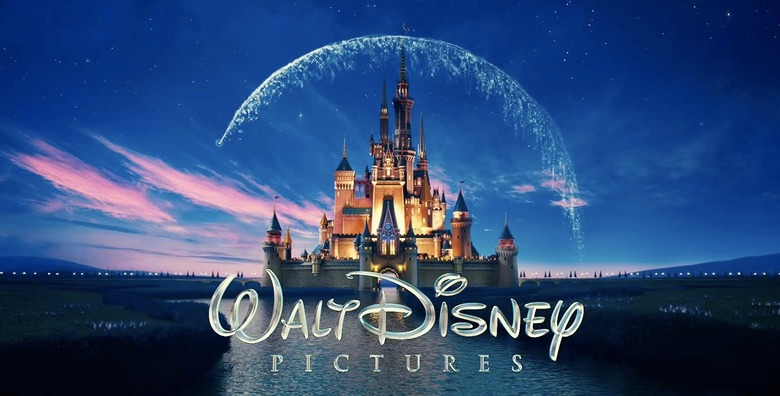 The first new project announcement from Walt Disney Animation Studios to be announced at D23 this weekend is Zootopia, an animated feature set in an animal world. More specifically, it is a "buddy action comedy set in a world where humans never existed."
The film will be released in 2016, and you can get many more details below.
Tangled director Byron Howard will direct the film from a script by Jared Bush. They've been working for the last year and a half on the project, spurred in in part by a love of the Disney Robin Hood feature. Howard wanted to do a film with animals in clothing. They hope to continue "Disney's amazing legacy of animal-based animated films."
Despite that seed idea, there's the intent to create a realistic world — during the presentation the filmmakers said "if you squint at anything in the world of Zootopia, it will look like a natural real world habitat."
There's also the promise of a unique vision. We've seen movies featuring animals in the natural world, and in the human world, but we've never seen animals in a modern world designed by animals. What would animals do differently than humans would? So the filmmakers talked to experts, from anthropologists to safari guides to imagineers as they began to design an animal civilization which is "distinctly animal."
Here's the first concept art. Click to enlarge.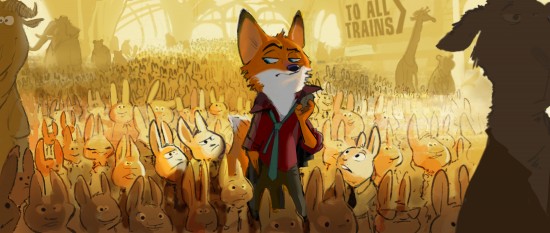 In the story, a mountain is an apartment building, and there are "habitats" instead of neighborhoods. Tundratown features polar bear karaoke, and the strange limo/fridge hybrid refrigerzine. Sahara Square is Dubai and Monte Carlo rolled into one, a desert setting, with the Oasis Hotel designed like a palm tree. The Wall Street Gerbil is reading material.
Little Rodencha features tiny streets for rodents; in general, different sizes of animals get, as you'd expect, different sized habitats. Rabbits are in the Burrow Borough, in the Rabbit Transit District. That area has a look influenced by the aesthetic of Studio Ghibli films.
The animals don't always get along, which is a big problem in the city. The conflict can be simplified down to "flat teeth vs sharp teeth." Nick Wilde, a fox, and Lt. Judy Hopps, a rabbit, begin as natural enemies who evolve into friends by the end of the story.
In the animal city of Zootopia, a fast-talking fox who's trying to make it big goes on the run when he's framed for a crime he didn't commit. Zootopia's top cop, a self-righteous rabbit, is hot on his tail, but when both become targets of a conspiracy, they're forced to team up and discover even natural enemies can become best friends. In theaters in 2016.