Watch Tom Hiddleston, Patrick Stewart And Jeremy Irons In Trailer For Epic 'The Hollow Crown'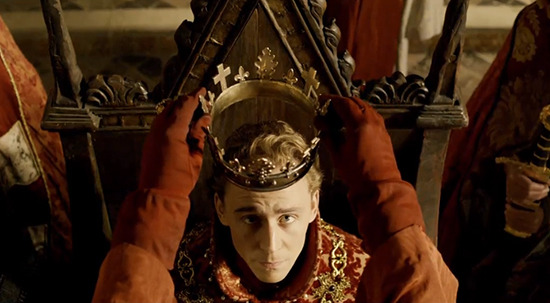 Was Joss Whedon's adaptation of the Shakespeare play Much Ado About Nothing a little more lightweight than you like from the Bard?
If so, the massive Sam Mendes-produced project The Hollow Crown might be what you're looking for. The BBC series adapts four Shakespeare plays, "Richard II," "Henry IV Part 1" and "Part 2," and "Henry V," with Tom Hiddleston, Patrick Stewart, Jeremy Irons and Ben Whishaw in primary roles. When I say "massive," I mean it, too: this sucker runs over 500 minutes.
The word "epic" is abused with respect to stories of late, but I think it applies here with no doubt. Check out a trailer below.
The Hollow Crown hits iTunes, VOD and DVD on August 27. Rupert Goold, Richard Eyre and Thea Sharrock directed.
From executive producer Sam Mendes comes four stunning adaptations of some of William Shakespeare's most revered works. Featuring an all-star cast including Tom Hiddleston (The Avengers), Patrick Stewart (X-Men, Star Trek franchises), Jeremy Irons (Margin Call), Ben Whishaw (Cloud Atlas, Skyfall), and more, THE HOLLOW CROWN includes Richard II, Henry IV Parts One and Two, and Henry V. Filmed with both epic scope and intimate detail, the rise and fall of kings is brought to life like never before in these internationally acclaimed adaptations.