'Masters Of Sex' TV Trailer: The Study Of Impolite Science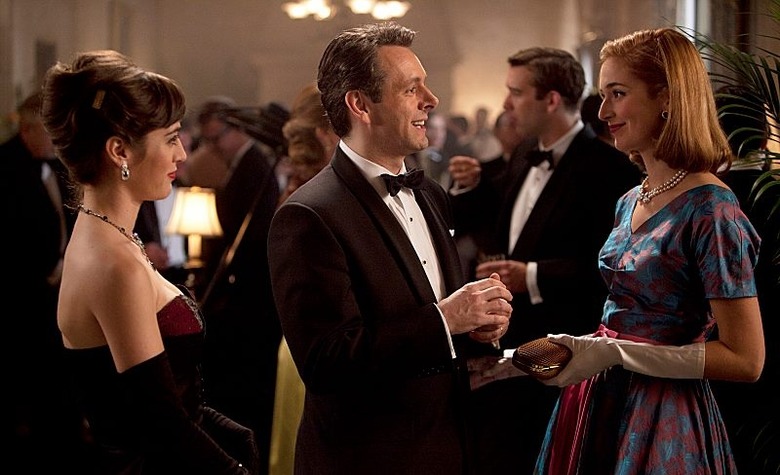 Into a TV landscape littered with antiheroic morality tales and Scandinavian crime dramas, Showtime is introducing something a little different with Masters of Sex.
Michael Sheen stars as William Masters, a real-life sex researcher whose pioneering work still serves as the basis for much of what we know about sex today. Lizzy Caplan stars as Virginia Johnson, his partner in science and, eventually, love. That cast alone is enough to get me to sit up and pay attention, but the first trailer also makes the show look like a hell of a lot of fun. Hit the jump to check it out.
Be warned that while the trailer is technically SFW — there's no nudity or even cursing — there's enough risqué material in here that perhaps you shouldn't be watching it at work. Unless your office is as open-minded as Masters', perhaps.
As we've seen, premium cable channels will bend over backwards to include nudity even when it's totally irrelevant. See Game of Thrones' notorious "sexposition" scenes, for example. So it must be nice for the Masters of Sex team to be able to work in some sex scenes as part of the actual plotline.
Kidding aside, this looks pretty great to me. There's a good balance between drama and humor, titillation and seriousness. At its best, this show could, like Mad Men, capture the spirit of the changing times on a very human level. Plus, I'm always glad to see Caplan and Sheen, and they're surrounded by some great regular and recurring co-stars including Beau Bridges and Allison Janney.
The only major downside? Masters of Sex doesn't premiere until September 29.
MASTERS OF SEX stars Michael Sheen and Lizzy Caplan as real-life pioneers of the science of human sexuality, William Masters and Virginia Johnson. Their research touched off the sexual revolution and took them from a midwestern teaching hospital to the cover of Time magazine and multiple appearances on Johnny Carson's couch. He is a brilliant scientist out of touch with his own feelings, and she is a single working mother ahead of her time. The series chronicles their unusual lives, romance, and unlikely pop culture trajectory.