'Enough Said' Trailer: James Gandolfini Woos Julia Louis-Dreyfus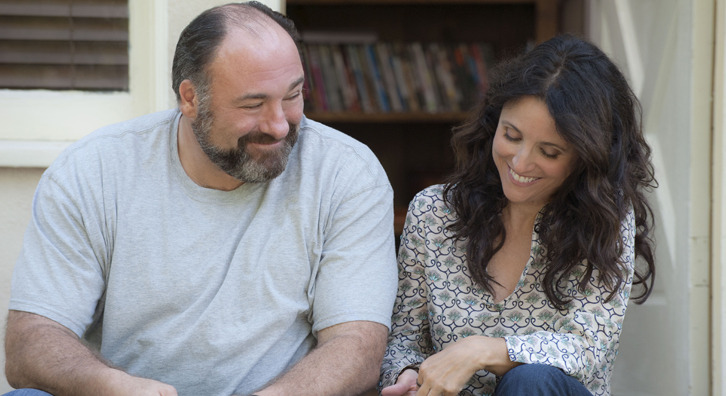 Enough Said features what sounds like a stock romcom premise: girl meets boy, girl befriends other girl, girl finds out that other girl and boy used to be married, and subsequently starts questioning the relationship. But with Nicole Holofcener in the director's chair, and Julia Louis-Dreyfus, James Gandolfini, and Catherine Keener in the leads, it's probably safe to expect something unusually clever and witty to come out of the concept.
The first full-length trailer has hit the web in advance of the film's upcoming premiere, and you can see it after the jump.
Enough Said features Gandolfini in his penultimate role. That fact can't help but add a bittersweet tinge to the film, even as his actual performance in it seems to serve as a pleasurable reminder of how warm and magnetic he could be onscreen.
Overall, this looks like another solid feature from the very smart Holofcener, and a great showcase for three very talented actors. Enough Said hits the festival circuit next month with a TIFF premiere, but the rest of us don't have long to wait either. Fox Searchlight has the movie set for a limited rollout starting September 20.
A divorced and single parent, Eva (Julia Louis-Dreyfus) spends her days enjoying work as a masseuse but dreading her daughter's impending departure for college. She meets Albert (James Gandolfini) – a sweet, funny and like-minded man also facing an empty nest. As their romance quickly blossoms, Eva befriends Marianne (Catherine Keener), her new massage client. Marianne is a beautiful poet who seems "almost perfect" except for one prominent quality: she rags on her ex-husband way too much. Suddenly, Eva finds herself doubting her own relationship with Albert as she learns the truth about Marianne's Ex. ENOUGH SAID is a sharp, insightful comedy that humorously explores the mess that often comes with getting involved again.