Edgar Wright Curates 'World's End' Influenced Screening Series At New Beverly In Los Angeles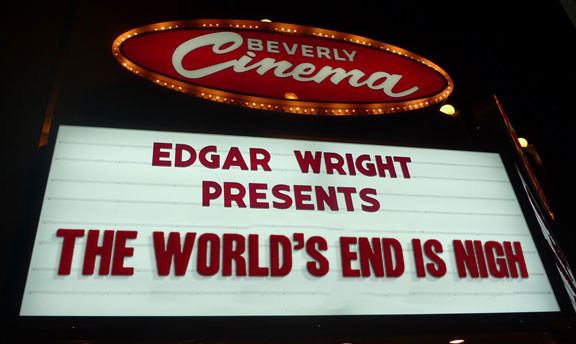 Both Shaun of the Dead and Hot Fuzz were born out of a basin of movie history. Each film is drenched in movie reference, be it visual or a line of dialogue, which adds a whole other layer of enjoyment on top of the individual stories. For the third film in The Cornetto Trilogy, writer/director Edgar Wright gets away from that. The World's End is a movie obviously influenced by the history of film, but in a much less overt way. If anything, it's overtly referencing Shaun of the Dead and Hot Fuzz, making it a great end to the trilogy.
The World's End has plenty of influence though and, for his third screening series at the New Beverly Cinema in Los Angeles, CA, Wright has picked 14 films, on seven double features, that all had some inspiration in his latest work. The screening series is called The World's End Is Nigh and it takes place August 9 through August 22, the eve of The World's End. Check out the full line up below.
For the full write up on The World's End Is Nigh, visit Edgar's website. But here's the list. Tickets are now on sale at newbevcinema.com.
August 9-10 "One Crazy Night"
After Hours Fri: 7:30 pm; Sat: 3:00 & 7:30 pm
1985, USA, 35mm, 97 minutes
Directed by Martin Scorsese; written by Joseph Minion; starring Griffin Dunne, Rosanna Arquette, Teri Garr, John Heard, Catherine O'Hara, Linda Fiorentino, Verna Bloom, Tommy Chong, Cheech Marin, Will Patton, Dick Miller
Into the Night Fri: 9:35 pm; Sat: 5:00 & 9:35 pm
1985, USA, 35mm, 115 minutes
Directed by John Landis; written by Ron Koslow; starring Jeff Goldblum, Michelle Pfeiffer, Dan Aykroyd, Bruce McGill, David Bowie, Richard Farnsworth, Vera Miles, Irene Papas, Clu Gulager, Kathryn Harrold, John Landis
August 11-12 – "Rock & Roll All Nite"
American Graffiti Sun: 2:50 & 7:30 pm; Mon: 7:30 pm
1973, USA, 35mm, 112 minutes
Directed by George Lucas; written by George Lucas and Gloria Katz & Willard Huyck; starring Richard Dreyfuss, Ron Howard, Paul Le Mat, Charles Martin Smith, Cindy Williams, Candy Clark, Mackenzie Phillips, Wolfman Jack, Bo Hopkins, Harrison Ford, Suzanne Somers
Dazed and Confused Sun: 5:10 & 9:50 pm; Mon: 9:50 pm
1993, USA, 35mm, 102 minutes
Written and directed by Richard Linklater; starring Jason London, Rory Cochrane, Wiley Wiggins, Adam Goldberg, Matthew McConaughey, Parker Posey, Milla Jovovich, Ben Affleck
August 13-14 – "We Are The Robots"
Westworld 7:30 pm
1973, USA, 35mm, 88 minutes
Written and directed by Michael Crichton; starring Yul Brynner, Richard Benjamin, James Brolin, Norman Bartold, Alan Oppenheimer, Victoria Shaw, Dick Van Patten, Steve Franken
The Terminator 9:25 pm
1984, USA, 35mm, 107 minutes
Directed by James Cameron; written by James Cameron and Gale Anne Hurd; starring Arnold Schwarzenegger, Michael Biehn, Linda Hamilton, Paul Winfield, Lance Henriksen
August 15-16 – "They're Here Already!"
Invasion of the Body Snatchers 7:30 pm
1978, USA, 35mm, 115 minutes
Directed by Philip Kaufman; screenplay by W.D. Richter; based on Jack Finney's novel; starring Donald Sutherland, Brooke Adams, Jeff Goldblum, Veronica Cartwright, Leonard Nimoy, Art Hindle, Lelia Goldoni, Kevin McCarthy
Dead & Buried 9:50 pm
1981, USA, 35mm, 94 minutes
Directed by Gary Sherman; screenplay by Ronald Shusett & Dan O'Bannon; story by Jeff Millar & Alex Stern; starring James Farentino, Melody Anderson, Jack Albertson, Dennis Redfield, Nancy Locke, Robert Englund
August 16
Scott Pilgrim vs. the World  (This is not part of the series, but, since Wright directed it, it kind of is.)
2010, USA/UK/Canada, 35mm, 112 minutes
Directed by Edgar Wright; written by Edgar Wright & Michael Bacall; based on the graphic novel series by Bryan Lee O'Malley; starring Michael Cera, Mary Elizabeth Winstead, Kieran Culkin, Chris Evans, Anna Kendrick, Alison Pill, Brandon Routh, Jason Schwartzman, Mark Webber, Ellen Wong, Johnny Simmons, Brie Larson, Aubrey Plaza
August 17 "Friends Reunited"
It's Always Fair Weather 3:00 & 7:30 pm
1955, USA, 35mm, 101 minutes
Directed by Stanley Donen, Gene Kelly; story and screenplay by Betty Comden and Adolph Green; starring Gene Kelly, Dan Dailey, Cyd Charisse, Dolores Gray, Michael Kidd, David Burns, Jay C. Flippen
The Big Chill 5:00 & 9:35 pm
1983, USA, 35mm, 105 minutes
Directed by Lawrence Kasdan; written by Lawrence Kasdan & Barbara Benedek; starring Tom Berenger, Glenn Close, Jeff Goldblum, William Hurt, Kevin Kline, Mary Kay Place, Meg Tilly, JoBeth Williams
August 18-20 – "Happy End Of The World"
Last Night Sun: 3:10 & 7:30 pm; Mon & Tue: 7:30 pm
1998, Canada/France, 35mm, 95 minutes
Written and directed by Don McKellar Starring Don McKellar, Sandra Oh, Roberta Maxwell, Robin Gammell, Sarah Polley, David Cronenberg
The Road Warrior Sun: 5:10 & 9:30 pm; Mon & Tue: 9:30 pm
1981, Australia, 35mm, 95 minutes
Directed by George Miller; screenplay by Terry Hayes & George Miller & Brian Hannant; starring Mel Gibson, Bruce Spence, Michael Preston, Max Phipps, Vernon Wells, Emil Minty, Virginia Hey
August 21-22 – "Thrills, Pills & Bellyaches"
Withnail and I 7:30 pm
1987, UK, 35mm, 107 minutes
Written and directed by Bruce Robinson Starring Richard E. Grant, Paul McGann, Richard Griffiths, Ralph Brown. Michael Elphick
24 Hour Party People 9:45 pm
2002, UK, 35mm, 117 minutes
Directed by Michael Winterbottom; written by Frank Cottrell Boyce; starring Steve Coogan, John Thomas, Paul Popplewell, Lennie James, Shirley Henderson, Paddy Considine, Andy Serkis